Four Peaks Beer Dinner Break Down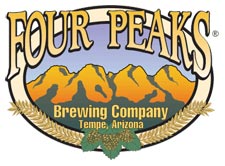 Four Peaks Brewing Company Gourmet Beer Dinner March 2, 2010 7:00 p.m.
The first month of 2010 has now been successfully completed. All the rope lights are packed away, the non denominational holiday tree officially disposed of, the last of the Christmas turkey finally thrown out (if not, I would hate to see what else you've got growing in your refrigerator) and all the kids are preparing for summer vacation. Ahh, such is the passage of time. With these first 30+ days finally out of the way, we at Four Peaks have decided that everyone is probably ready for both a new Seasonal brew AND our first Beer Dinner of 2010!
By the response we got from dangling the carrot at the end of last weeks Brewsletter, we have already SOLD OUT our Beer Dinner! Yup, before we even announced the menu my good buddy Steve Lynch was inundated with so many inquiries he was, quite frankly, overwhelmed! For those of you who missed out on this one, we are only about 4 months away from the next one!
Reception
* Sunbru Kolsch *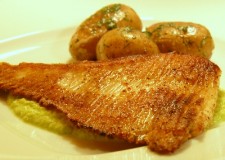 First Course: Poached Skate Wings and Hopknot Ale
Description: Pacific Skate Wings poached in lemon butter, served over a white truffle grana risotto with lobster mushroom and cepes.
First of all, the "Pacific" in question here is the largest ocean to be found on our planet, many diverse organisms live in its waters with one of these being the Pacific Skate. A member of the shark family, they look similar to what is commonly call a "ray". They have rather large pectoral fins that often give them the appearance of having wings especially while swimming.
The white truffle would be considered a fungal fruiting body… that's a mushroom folks! The "white" variety originates from the Piedmont region of Northern Italy. Grana is a class of hard cheese typically used for grating (see: parmesan or romano) also of Italian origin. Risotto would be a traditional rice dish from (drum roll, please)…Northern Italy! Are we seeing a pattern? Lastly we will also be serving lobster mushroom and cepes, both being different mushroom styles, for your tasting enjoyment.
Second course: Duck Confit Over Greens and Oatmeal Stout
Description: A Hudson Valley duck confit croquette served over a bed of mesclun mix with snap peas, yellow tomatoes, Maui onion, Focaccia croutons and a creamy cambonzola dressing.
First of all the Hudson Valley, for the geographically impaired, is the region of New York State that skirts the Hudson River which is where the ducks in question come from. Duck Confit is a French dish involving curing the duck (in this case its legs) in salt and other seasonings and then being poached in its own fat to to create an exquisite and tasty dish! The "croquette" in question is a small fried food roll that typically contains potatoes, and it's all served on a "mesclun mix" Basically it's just an eclectic mix of different salad greens. Delicious additions to this mix include:
snap peas = peas
yellow tomatoes = tomatoes
Maui onion = sweet onions
foccacia croutons = croutons from a flat, Italian, herb-infused bread
What is this cambonzola dressing, you ask? Well, simply put, Cambonzola is a cross between Camembert and Gorgonzola, it has a creamy texture and is medium strong in taste. Voila!
Third course: Oxtail Ravioli and Kilt Lifter
Description: Braised Oxtail, bone marrow, asiago, basil and thyme folded in homemade pasta and topped with a wild game ragu, served with steamed baby carrots, turnips, roasted corn and rapini.
Braised oxtail is just that, oxtail. Upon researching oxtail and its preparation, it is widely regarded that a well prepared oxtail can be more enjoyable than a rib-eye or tenderloin. When cooked on the bone, the very rich marrow contained within slowly gets released to bring out a truly unparalleled flavor. This flavor only gets augmented with the addition of asiago cheese, basil and thyme before being wrapped "ravioli-style" with a wild game ragu (ragu is just the Italian word for a meat-based sauce).
Did I hear Italian? Seeing as I would assume everyone knows what they are getting when it comes to carrots and turnips and corn, let's talk a little about rapini. Rapini, also known as broccoli rabe, actually is very similar to turnips. It has a strong and somewhat bitter flavor that compliments milder foods very well.
Fourth course: Figs and Shortbread and Raspberry Hefeweizen
Description: Carmelized figs on a bed of sweetened lemon mascarpone cream with fresh berries and mint over pecan shortbread cookies.
Regardless of all the other dishes offered, for some reason the dessert tends to get the most raves by the end of the night, I don't see that changing this time around either. First of all figs are lusciously sweet and feature a complex texture that combines the chewiness of their flesh, the smoothness of their skin, and the crunchiness of their seeds. Alright, I stole that description, but I really couldn't have put it any better. There really are more to them than just 'Newton's". Mascarpone is a very rich Italian cheese concentrated from milk cream. It has a very smooth, creamy and sweet texture. Mascarpone cream is a combination of this cheese with Zabaglione and whipped cream.
And there you have it, a layman's guide to a Four Peaks Beer Dinner! To all that are going, you WILL have the time of your life. I know you've never felt this way before…I swear, it's the truth!