Founders KBS 2013 Release Details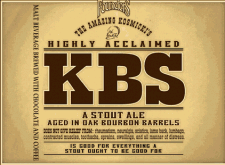 From foundersbrewing.com, where you can view their beautiful photograph of KBS sitting on top of a bourbon barrel. Details on The Founders KBS Release 2013.
Founders KBS release 2013 will begin with a four-day, pre-ticketed, on-site bottle release beginning on Wednesday, March 27, prior to being released across our distribution footprint on April 1.
Dates for the taproom bottle release are as follows:
Day #1: Wednesday, March 27, 2013, 11am-9pm
Day #2: Thursday, March 28, 2013, 11am-9pm
Day #3: Friday, March 29, 2013, 11am-9pm
Day #4: Saturday, March 30, 2013, 11am-9pm
Tickets for all four release dates will be available beginning at 11:00am on Saturday, February 16, via brownpapertickets.com on a first-come, first-served basis. There is a limit of one ticket per person. Tickets are non-refundable, and proceeds from the $5 purchase price will be donated to Grand Rapids Whitewater. Your ticket, along with a valid government-issued photo ID, gets you the opportunity to purchase KBS only on the date listed on your ticket. A strict maximum limit of12 bottles per person applies. KBS is $4.75 per bottle, $19 per 4-pack, and $57 for 12 bottles (three 4-packs). Bottles can ONLY be picked up on the day listed on the ticket from our Company Store during regular business hours (see above).
'KBS Week' culminates in an all-day draft release party in our taproom on Saturday, March 30.The party takes place from 11am-2am, is strictly 21+ and is free-of-charge. March 30 marks thefirst day KBS will be available on tap. The party stars the draft release of KBS, and free live entertainment will be offered in the evening.