Founders Fest 2011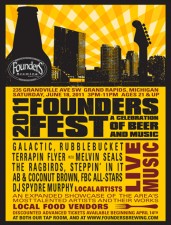 Founders Fest is a celebratory "thank you" to Grand Rapids and West Michigan for making Founders what it is today. Founders Brewing Company has been a part of the Grand Rapids scene since 1997 and has grown its brewing tradition from its modest beginnings to most recently being rated the second best brewery in the world.
Incredible live music all day, a local artist's row featuring the wares of some of the area's finest artists, roving entertainers to keep you on your toes and make you laugh and/or smile, Founders merchandise as well as commemorative Founders Fest gear available for purchase, all your favorite Founders employees, thousands of the coolest people around, and undoubtedly, a LOT more.
WHAT: Founders Fest. Our biggest party of the year, celebrating our three greatest loves: the city we live in; our fantastic, critically acclaimed beer; and really awesome music.
WHEN: Saturday, June 18th, 3–11pm.
WHERE: 235 Grandville Avenue SW. Downtown Grand Rapids. We shut down the taproom and move the party outside, closing off the streets surrounding the brewery, with a majority of the Fest's vast expanse taking place on the beautiful  brick-paved of Grandville Avenue.
WHO'S PLAYING: This year's lineup is absolutely sickening, and by sickening, we mean INCREDIBLE AND YOU'LL LOVE IT.
We're really stoked for this year's headliner:
GALACTIC (Legendary Jazz, Brass, Funk outfit from New Orleans)
And we're also pretty geeked about the rest of the lineup. Here it is in a slightly particular order:
RUBBLEBUCKET (Genre-smashing afrobeat-inspired jazz dance from Boston)
TERRAPIN FLYER with MELVIN SEALS of the Jerry Garcia Band (The world's greatest Grateful Dead tribute band from Chicago)
THE RAGBIRDS (Awesome upbeat folk and world music from Ann Arbor)
STEPPIN' IN IT (Fun, witty, bluegrassy creole from Lansing)
AB! & COCONUT BROWN (Danceable, inspired, thoughtful and aware full band LIVE hip-hop from Grand Rapids)
FBC ALL-STARS (An all-Founders-employee supergroup featuring members of Chance Jones, The Total Blam Blams, Lights at Sea, Oracle, The Nicholas James Band and probably a ton of other bands cause these dudes are awesome)
DJ SPYDRE MURPHY (Our own resident master of wax)
WHAT IS THERE TO EAT AND DRINK: Most of your Founders Favorites will be cold and flowing, along with some killer specialties and a beer or two JUST for the event. We'll have some limited n/a bevs, too, for you to stay hydrated. Food vendors like The Cottage Bar and The Pita House will be on site for you to get your grub on.
HOW MUCH IS THIS GOING TO COST ME AND HOW DO I GET TICKETS: Advance tickets are available April 14 both in our taproom and at www.foundersbrewing.com through our friends at Brown Paper Tickets. You should be able to simply search "Founders Fest" and purchase tickets from this awesome fair trade ticket site. Advance tickets are only $15 for the general public and $10 for 2011 Mug Club Members. Day-of tickets will be $20 for the general public and $15 for 2011 Mug Club Members. Without a doubt an incredible value. *Keep in mind, Founders Fest is strictly 21+.
I'VE NEVER BEEN THERE BEFORE; HOW DOES FOUNDERS FEST WORK?: The entrance/exit will be at the north side of the festival grounds, closest to the intersection of Cherry and Grandville. At that point, your ID will be checked to confirm that you are 21, and you will receive a stamp and a wristband. Your ticket will be taken, or you can purchase tickets at that time. Then, you're in the Fest, where you can proceed to purchase beer tickets, then head over to the beer tent for a pint! Feel free to roam the festival grounds, check out the art, grab some grub, buy some band or Founders merch, hang out with old friends or make new ones! Then, be sure to check out the incredible live music on the enormous stage at the south end of the Festival grounds. *Keep in mind, the taproom itself will be CLOSED TO THE PUBLIC.