Flagstaff BrewHaHa 2013 – Recap W/ Pics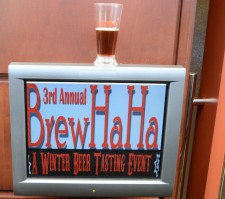 We bring to you, a recap of Flagstaff BrewHaHa 2013 by our new Arizona intern Jesse. Jesse shares his experience at the event along with some pictures he took.  If you are interested in an internship at The Full Pint, please follow this link.
Last Saturday marked the 3rd Annual Brew Ha Ha Winter Beer Tasting in Flagstaff, Ariz., and though it was my first time attending the event, I was assured that the third time is indeed the charm.
Matt Ziegler (owner of Greenhouse Productions, a concert promotion company) started the festival in 2010 as a reaction to the growing popularity of craft beer, and particularly in the town he lives in, Flagstaff.
I spoke with Ziegler prior to the event and he was optimistic about the potential turnout, saying that the buzz has grown so much that the beer comes to him.
"Now it's gotten to the point…that we're getting more and more [breweries] contacting us, asking if they can come to it and so that feels good that it keeps going," Ziegler said.
I arrived at 2 pm to the High Country Conference Center on Northern Arizona University's campus to a sizable crowd, at least for a small town like Flag. Past the line, I was awarded my ticket along with the commemorative Brew Ha Ha taster glass. It was plastic, but cool nonetheless.
The space itself is very nice, but commercially oriented in my opinion. Whereas many events seem to take place at breweries and parks, this one takes place inside of a ballroom and the outside hallway. It may seem weird, but considering how cold it is in Flagstaff in January, it's pretty much the only option, and I was very open to it.
The event was billed as having over 40 different breweries present, and while I didn't take an exact count, there were definitely a considerable amount of beer choices to be made. I started my day with a beer that I had never heard of, and can't find much information about (the guy pouring didn't know anything about it either, unfortunately). I really hope I didn't imagine it in all the excitement.
It was Dogfish Head Occasional Ale, and it was golden, sweet, peppery and refreshing. I thought it was a great way to kick off my day. Here's hoping that I hear something about that beer in the future. Editor's note: This was likely a mislabeled DFH Beer (They have an entire line of Occasional Ales)
Another very unique beer I discovered early on was from O'dell Brewing Company. They brought a Cask Style IPA made with mandarin, peach, and pineapple. It was extremely fruity and the mandarin and pineapple completely buried the peach flavor, but I still believe it was a dynamite IPA. Kudos to O'dell for bringing something interesting to Flagstaff.
A really great thing about the Brew Ha Ha and the fact that it's an indoor soirée type of affair is that there are waiters snaking their way through the crowd with trays of various delicious hors d'oeuvres. I had steak skewers, egg rolls, wings and other fried goodies I couldn't quite identify. It was all very satisfying sandwiched in between beers.
Ska Brewing Company from Durango, Colo. brought several beers from their main line, but also offered some very interesting bombers. Pocket Protector 2.0 Porter with vanilla beans was excellent and reminiscent of Ballast Point's Victory at Sea. The other appealing Ska beer was the Local Series On The Sly Again #2, "a traditional German Weizenbock brewed with Pam Bradley from Austin TX…winner of our 4th Annual GABF Pro-AM Homebrew comp," the bottle read. And it was just that, a very good German Weizenbock. Not my favorite thing, but I definitely respect a beer that can make me start to change my mind about a certain style.
One big surprise for me was Nectar Ales Black Xantus Imperial Stout, which I thought was absolutely fantastic. Also, referred to as a imperial java stout, this barrel aged beauty was surprisingly quaffable for 11 percent and was deep black with ruby red accents. Lots of bourbon and booze aroma abounded, and there was a significant sticky sweet taste. I barely even knew this beer existed, and was thrilled to have tried it out of the blue.
While taking in all brew, it was happy to see that Ziegler booked a local jazz combo that I was familiar with, Giant Steps Jazz, who are a very talented group of musicians. It was the icing on the cake…the head on the brew.
Late in the day came a nice surprise from the Deschutes table, that two bottles of 2012 Dissident had came out of hiding. I thoroughly wasn't expecting to be having delectable sour beer that day, so the mouth-puckering moment was a high point.
I also got to try the "Snowman's Choice Award," which was given to the judges favorite beer of the event. This was a local beer from The Lumberyard Brewing Co. and was a bourbon barrel aged Imperial IPA called Monsoon Madness. I've had this beer before the Brew Ha Ha, and it was the same then as at the event. It's very musky and sweet, and definitely not what I personally look for in an Imperial/Double IPA. Everyone's tastes are different, but considering the beers present that I've already mentioned, I wholeheartedly disagree with the "Snowman's Choice Award."
After lots of walking in circles and snapping pictures, 6 pm approached and I headed over to the Wanderlust Brewing Co. table to get my final beer of the day. Wanderlust is local to Flagstaff, and is the newest brewery on the scene there. From what I've had, Nathan Friedman, the one-man-show at Wanderlust,, is doing the best job at brewing beer in his town. I had his Pan-American Stout, a coffee and vanilla stout, and it was very impressive. An even lighter version of Victory at Sea than the Pocket Protector 2.0 was, the Pan-American stout was very drinkable yet extremely flavorful at the same time. I commend Friedman for upping the game in Flagstaff.
I had a really great time at the Flagstaff Brew Ha Ha, and the growing craft beer scene in Flag is just another reason to love the city more. If you've never been to this quirky little mountain town, it's worth it. Maybe even next January for the 4th Annual Brew Ha Ha.