First Annual Mile High Brew Fest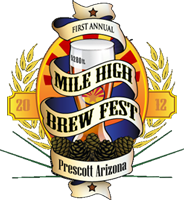 Eat, Drink and Be Merry at the First Annual Mile High Brew Fest
Mile High Brew Fest is a premiere event that will take place on June 16, 2012 at the corner of the historic Courthouse Plaza on "Whiskey Row" and Goodwin streets in Prescott, Arizona.
Savor beer samples from some of the Southwest's finest craft breweries, outdoors in the pleasant air of a Prescott Summer. Enjoy performances by a variety of bands and live art demonstrations from local artists. Artwork will be raffled and all proceeds will benefit the Boys & Girls Clubs of Central Arizona.
To accommodate this major event, one block of Montezuma street will be closed between Goodwin and Carleton streets.
www.milehighbrewfest.com – facebook