Fegley's Brew Works 15th Anniversary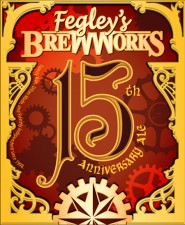 Bethlehem, PA – On April 15th, we'll be celebrating our 15 year Anniversary at the Bethlehem Brew Works. We really can't believe it's already been 15 years. Happy Birthday Bethlehem Brew Works!
Thinking back to those first weeks and months and how far we've come – from brewing for one restaurant to producing and distributing our craft beers all over PA and NJ! The Fegley family, Brew Works Management and Staff are unbelievably thankful to all of our customers, friends, and family who have made us successful for the past 15 years.
To kick-off the celebrations, we've been secretly brewing our 15th Anniversary ale. This is going to be a limited edition 750ml bottle going on sale April 15th. Quantities are extremely limited. We're not going to have this beer for long. IN fact, we're pretty sure it's going to be gone by the end of the day so make sure to come in and get yourself this special brew!
On top of that, we'll be partying all day on April 15th with BEER SPECIALS. We'll have a special menu on hand with some of your favorites from the past to enjoy all week long. If you're part of the Mug Club, you might want to come in on Monday, April 15th. We'll have a surprise waiting for you (offer good for April 15th only) Come out to Bethlehem and celebrate the birthday of Fegley's Brew Works!
For more Anniversary events and info visit www.thebrewworks.com – @TheBrewWorks – facebook