Exclusive: Noble Ale Works 4th Anniversary Tap List Lineup
(Anaheim,CA) – Noble Ale Works in Orange County is celebrating their 4th Anniversary with a big "backyard" beer festival featuring over 40 Noble beers. Tons of Naughty Sauce variants will be had, there's definitely a  chance of SHOWERS, and Noble Ale Works will be unveiling their first bottled sour. Say whatttt!  Anyway, follow this link for tickets, and read on for the amazing tap lineup.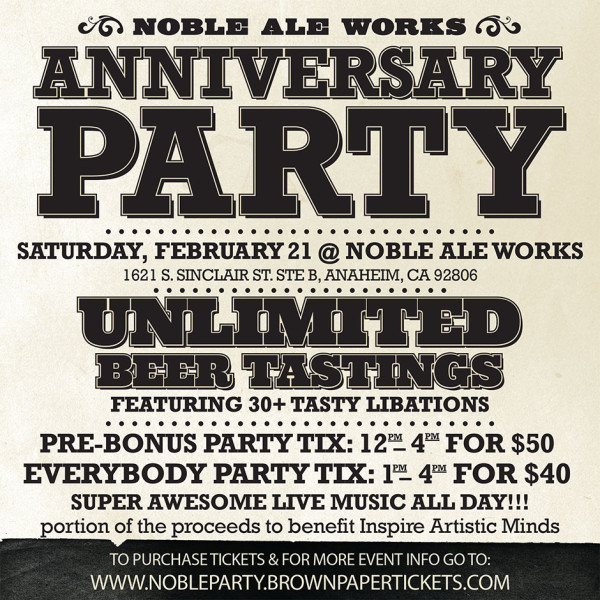 Tap Lineup

Pistol Whip'd Pils
Breakaway Pale Ale –
Big Whig IPA
Naughty Sauce
Dirt McGirt
Yowza
Sippersaurus
Rosalita
Krampus
Unintelligibility
Part Of a Balanced Breakfast
Emmett
Man's Milk
Bill Brasky
Gone To Plaid (Vintage 2013)
Putin On The Ritz
Smokey Canyon
Grapefruit Shandy
Lemon Shandy
The Ginger Princess
Pistola
Too Darn Hot
Weekend at Burnies
South Downs Well
The Knowle Spring
English 201
Vlady Sauce
Cinnamon Roast Crunch
Bean Bump
Lebowski Bump
Naughty Nutz
Goser The Gozerian
Gosebusters
Barrel 1
Barrel 2
Time Burglar
Amarillo Showers
Citra Showers
Sorachi Ace Showers
Citra Yum Yum
I Love It!
Nobility
We will have one special release during the day. It's our first barrel aged sour beer. We added fresh pureed figs, orange zest and cardamom and let it hang out for a year and half. I'm really excited about it!
Also:
4 different Beer Cocktails by Jarred Dooley of Playground
Cold Brew Coffee and Tea from Portola Coffee Lab