Epic Brewing Hits SoCal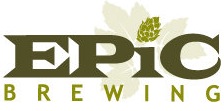 Epic Brewing of Utah is entering the Southern California market. Here are some cool kick off events at Beachwood BBQ and Brewing, 38 Degrees Alehouse, Mowhawk Bend and The Surly Goat.
It's official–EPIC will now be available in Southern California starting in late February.Join us for our SoCal kick-off with a series of events starting with a Pint Night at Beachwood BBQ and Brewery in downtown Long Beach, CA on Tuesday, February 28 from 6-9pm. We'll also be at 38˚ Ale House & Grill on Wednesday, February 29 from 6-9pm for Flight Night featuring four EPIC beers on draft, and on Thursday, March 1 from 6-9pm we'll host an EPIC tap-takever at Mohawk Bend.Cap off our kick-off week with a party at The Surly Goat on Saturday, March 3 from 7-10pm where we will be pouring our Santa Cruz Brown, Big Bad Baptist, Spiral Jetty IPA, Brainless® Belgian Golden Ale and Mid Mountain Mild Ale.Cheers!