Engine 15 Brewing Is Turning 3!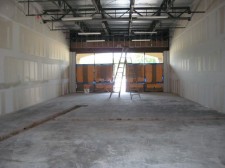 Remember when Engine 15 looked like the picture to the right?  No?  Well, that's because we didn't show you it until it looked MUCH better.
But three years later, we are really grateful for how far we've come and how much beer you've helped us drink! So, we are throwing a little birthday party.
Join us Saturday, July 6th for $3 (bc it's our 3rd birthday, of course) Engine 15 pints all day long.  We are also releasing a limited barrel-aged anniversary bottle series – Imperial Chupacabra & Imperial Simcoe.  It's first come, first served on these bottles – and I'm not just asking this bc I work there – they are so good so get here.
We are working hard to get our Oktobefest Oompa band for this special day as well – stay tuned for more info on that.
Let us say again that we wouldn't be here without you guys and we never forget that.  That's why we work hard to keep up a great atmosphere and beer list for you every day!  And we crack the whip on those brewers to keep our Engine 15 beer the best.  Thanks for supporting us and here so another great year of beer!!