Elysian Brewing's Great Pumpkin Beer Festival Oct. 19 and 20, 2012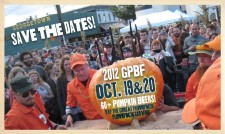 As ridiculous as pumpkin beers can sometimes seem, the folks at Elysian Brewing Co. take them very seriously. This year's Great Pumpkin Beer Festival, on October 19 and 20, will showcase around 60 different beers made with pumpkin by local brewers, brewers from around the country, and this year from Canada and Norway as well. Elysian alone will contribute 13 different pumpkin beers, some of them of multiple vintage. The 8th annual GPBF will also feature the tapping of the giant pumpkin cask, which in itself has become a Seattle autumn tradition.
Elysian's seriousness about the pumpkin has made the papers, both in the mainstream and in beer publications such as Beer Advocate, which placed three Elysian offerings in its top 20 Pumpkin Beers. Leading the way was The Great Pumpkin. This year Elysian will bring back such favorites as Hansel & Gretel Ginger Pumpkin Pilsner, Dark o' the Moon Pumpkin Stout and Coche de Medianoche, made with pumpkin seeds, cinnamon, cumin and chilies. In addition, new pumpkin beers will be unveiled, such as Gourdfather, a pumpkin barley wine, an Indian-spice-themed beer yet to be named, and "something with plums," according to Dick Cantwell, Elysian's Head Brewer.
A theme of pumpkin brewing collaboration has emerged over the past few years, bringing brewers from elsewhere forward with ideas for beers they'd like to brew for GPBF, as well as joint projects between Elysian's brewers and New Belgium, Stone, The Bruery, Lost Abbey, Beau's All Natural and Ninkasi breweries. All of these beers will be available at this year's fest, along with Sour Pumpkin from Russian River, La Parcela from Michigan's Jolly Pumpkin, Punk Rauchen smoked pumpkin beer from Silver City Brewing, and Ghoulschip from Allagash Brewing in Portland, Maine, spontaneously fermented on Halloween Night 2008 in their famous coolship.
This year's fest will mark the second year being held at Elysian's new production brewery on Airport Way in Seattle's Georgetown neighborhood. Crowds will be able to stretch out as they sample beers from several serving areas, and then to convene in the center of everything as the 200-pound-plus Great Pumpkin is tapped and this year's offering flows until it's gone. If precedent is any help in determining how long that is, it should last about ten minutes. Tickets to GPBF will be available in Elysian pubs and Full Throttle Bottles beginning Friday, August 17, and online at Brown Paper Tickets beginning August 24. –TICKET DETAILS BELOW-
-Dick Cantwell
GPBF TICKET INFO ::***ALL TICKETS ARE PRESALE THIS YEAR
, SO MAKE SURE TO GET YOUR TICKETS EARLY
TO SECURE YOUR PREFERRED SESSION.***
The 8th Annual Great Pumpkin Beer Festival
Session 1 :: Friday OCT. 19, 4pm-10pm
Session 2 :: Saturday OCT. 20, 11am-4pm
Session 3 :: Saturday OCT. 20, 5pm-10pm
Tickets $25 – Souvenir Glass + 6 Drink Tickets
Additional Drink Tickets for purchase at Event
21+ Event // Check ID
ON SALE PUBS 8/17 at all Elysian pubs (Elysian Capitol Hill, Tangletown and Fields) as well as a limited number at Full Throttle Bottles
ON SALE ONLINE 8/24 at Brown Paper Tickets
We will continue to update festival information on our website : www.elysianbrewing.com/greatpumpkinbeerfestival.com
Questions: Contact [email protected]
ABOUT ELYSIAN
Elysian Brewing Company operates three neighborhood brewpubs and a production brewery in Seattle, WA. Known for variety, Elysian has brewed more than 200 different beers since opening its doors in 1996.