El Segundo Brewing Wet Hop Weekend Details!
(El Segundo,CA) – Our friends over at El Segundo Brewing are going to the extreme this weekend as they celebrate the hop harvest with Wet Hop Weekend.  Read on for the entire itinerary consisting of limited bottles, specialty casks, wet hop draft offerings and more.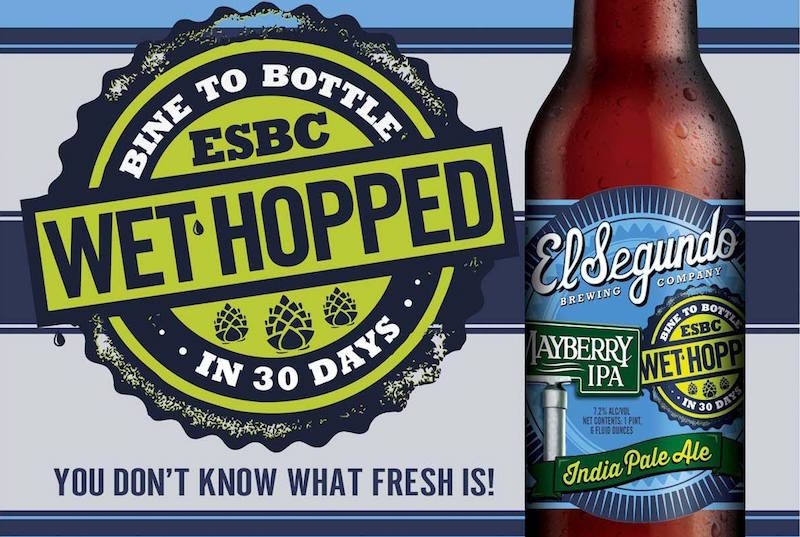 Last year we visited Yakima during harvest, and it took our love of hops to a whole new level. This year we doubled down on Wet hop beers, and made 3 different brews.
PLUS we are bottling some!
Wet-Hopped Mayberry IPA gets top billing this year, with only a 150 cases available, at the TAPROOM ONLY. They are gonna go FAST. We threw 200 pounds of Mosaic hops in the mash and kettle within 24 hours of picking to sexify this already amazing brew.
Reserve your case with [email protected] (You can pickup anytime that weekend)
$7/bottle or $70/case – Bottles available Friday at 4pm. Shortly after bottling.
Outdoor BBQ – Saturday 10/17 – 12-6pm
Saturday we are opening up our back parking lot and having an outdoor BBQ. Barley Hops Grill will be in house serving up some grub, we will have ESBC Corn Hole setup outside.
The other two brews we have made for this year are..
Wet-hop Simcoe Pale
Same recipe you've seen in the past iterations of this brew.. but sub in freshly harvested Simcoe!
Citramongous DIPA (also wet-hop.. get the theme?)
We thought.. how is it we haven't made a DIPA with Citra fresh hops yet.. seems a crime. Consider that resolved.
Growlers available on ALL 3.
Supplies are limited, and we want all these beers gone in short order.
We will have Cask Tappings throughout the day, depending on how thirsty you all are. We are planning on one of each brew!