Drakes Hopocolypse and Hopocolypse Black Label Return for 2013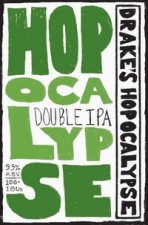 It's in the tanks. It's preparing for the onslaught of thirsty beer hoards. It will be ready. Will you?
Drake's Hopocalypse DIPA and Hopocalypse Black Label Triple IPA will be returning on Saturday, February 2nd at Drake's Barrel House.
Doors will open to the Barrel House at 10am.
Hopocalypse DIPA (9.3% ABV, 100+ IBUs) will be available on tap, on cask, in 22 oz bottles (1 case per person limit), in growlers (2 per person), and in Brew Rhino kegs (limited availability, first come first served).
Hopocalypse Black Label (12.5% ABV, 100+ IBUs) will be available on tap, on cask, and in 22oz bottles (2 per person limit).
For the hungry, Fists of Flour Wood-Fire pizza truck will be stopping by to crank out pizzas specially crafted for the Hopocalypse from their firey pit of deliciousness. Stay tuned for updates on other food options.
Expect music, casks of Hopocalypse, brewery tours, great food, Hopocalypse swag, and enough hops to send you to the end of days tasting the dank hoppy deliciousness forevermore.