DieN'Isis: A Zombie Apocalypse Survival Beer Pairing Dinner Workshop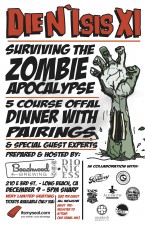 Long Beach, CA – On Sunday, December 9th at 5 p.m., Beachwood BBQ & Brewing will host the 11th installment of the famed food & drink pairing series, DioNicEss. And if you've always wanted to have a dinner to die for, rest easy… because it's finally here.
The inspiration for this iteration came while Beachwood BBQ chef Gabe Gordon was contemplating the seemingly imminent zombie apocalypse (seriously, it'll only be a matter of time), and commented to DioNicEss founder Gev Kazanchyan how great it would be to host a zombie-themed beer pairing dinner, with all sorts of imaginative food that somehow related to the walking dead. Kazanchyan, also a public health professor, added that he could incorporate several colleagues of his that would be able to discuss zombification with attendees and provide professional insights on how best to survive a necromorph uprising.
The resulting dinner—comprising of at least five courses—has temporarily been renamed DieN'Isis to honor the ancient Egyptian goddess of rebirth and reincarnation, and will focus on the chronological elements of transformation:
The cause (are you a slow runner?
Death (it happens to even the best of us)
Decomposition (break it down)
Reanimation (think live octopus, still wriggling)
BRAAAIIIINS!! (a trio of them, no less)
Bored with brains (because no parts should go to waste)
Skeletal remains (pick them bones clean), and
The cure (using a special caffeinated treat from Portola Coffee Lab, which could bring anyone out of a zombie-like state)
And each course—NOT for those that have any dietary, philosophical or emotional limitations whatsoever—will be expertly paired with similarly themed beers, each brewed specifically for this event by Beachwood BBQ & Brewing, Eagle Rock Brewery, Monkish Brewing Co., Phantom Carriage Brewery, TAPS Fish House & Brewery, and The Bruery.
Speakers covering topics related to the undead include a pharmacologist, an expert in forensics, and a neuroscientist, among others. They will guide guests through what they might expect in a zombie apocalypse, and how best to prepare themselves "should" one ever occur.
Tickets ($80 each) are very limited, and will be available for sale after 12:01 a.m. on Saturday, November 10 at http://bit.ly/DieNIsis. More details surrounding this glorious evening and teasers for the menu will be posted to the DioNicEss Facebook page and @DioNicEss Twitter account as the event draws nearer.
Media & general event inquiries can be directed to: [email protected]
DieN'Isis: A Zombie Apocalypse Survival Dinner Workshop
Beachwood BBQ & Brewing, 210 E 3rd St., Long Beach
Sunday, December 9 | 5pm | $80 per person, tickets must be purchased in advance