Craft Beer Thanksgiving 2010 Roundup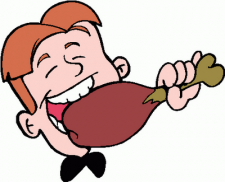 Around the US, many of your favorite craft breweries and brew pubs are doing something special for Thanksgiving.
Read on to see what's going on in your neck of the woods. Happy Thanksgiving, The Full Pint.
Southampton Publick House – Gather together for Thanksgiving Dinner at  Southampton Publick House on November 25, 2010. Chef Carl Holfelder has created a three-course prix fixe meal for $24.95 per person, $14.95 for children 10 and under (plus tax and gratuity).  Dinner will be served from 1:00-7:00pm. Reservations are recommended and can be made at 631-283-2800. Click here for more details.
Victory Brewing – Victory has some great Turkey Day ideas posted on their blog. Check these out by following this link. http://www.victorybeerblog.com/beerblog/cooking-with-beer-this-thanksgiving-4-amazing-recipes-featur.html
Stone Brewing – Stone Brewing's World Bistro & Gardens  posts "Just think, get a break from cooking, enjoy a meal made with locally grown organic produce, and provide a dinner to a family in need. Now that's a dinner to feel great about." Click here to get all the details on having Turkey Day Stone style. http://www.stoneworldbistro.com/TurkeyDinner/default.asp
Cape Cod Beer – Cape Cod shares a recipe for a holiday punch, using their Cape Cod Beach Blonde Ale. I imagine you could substitute your favorite blonde ale to get your party started right. Here is the link to this interesting recipe.
Trappeze Pub Atlanta, GA – "We will be opening this Thanksgiving from 5pm – midnight for your after-turkey drinks this year! Our kitchen will be closed but we will be pouring your favorite holiday beers and our stellar line-up of craft beers! Bring the family out after the game for a round and celebrate the holiday with your friends at Trappeze!"
Big Boss Brewing – Big Boss will be open for Thanksgiving from 5pm – 12am.
Lost Abbey – Lost Abbey will be closed on Thursday, but to make up for it, they will have extended hours the Wednesday before (1pm – 6pm) and Friday after (12 pm – 9pm).
Midnight Sun – Midnight Sun will be closed on Thursday, and to make up for it, they will have 3 versions of Berzerker on tap.
Gritty McDuff's – Gritty's in Portland will be open for Thanksgiving at 7pm. The Freeport and Lewiston/Auburn locations will be closed.