Columbus Microbrew Festival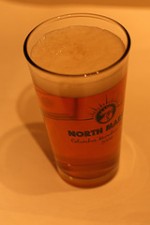 September 12-13, 2008
Now in our third year, the Columbus Microbrew Festival will be adding Friday evening hours to this locally-brewed beer event held at the North Market.
The Festival was such a success last year that all seven participating microbreweries are coming back and we are starting the fun a day earlier than previous years! Come taste some great hand-crafted ales from Columbus' and Zanesville's master brewers!
The Columbus Microbrew Festival will be held in the farmers' market plaza on Friday, September 12th from 5 – 9 p.m. and on Saturday, September 13th from noon – 7 p.m. on the second floor of the market house.
Returning for the event are Barley's Brewing Company (Ale House No. 1), Barley's Smokehouse & Brewpub (Ale House No. 2), Columbus Brewing Company, Elevator Brewing Company, Gordon Biersch Brewery Restaurant, Hoster Brewing Company and Weasel Boy Brewing Company.
Representatives from each microbrewery will be on hand to pour samples of their signature drafts. Admission to the event is free. Beer tasting admission is $15 and includes a commemorative pint glass and ten tasting tickets. Discount coupons good for $2 off the tasting admission fee will be available at all participating microbreweries beginning September 1. Additional tasting tickets will be available for $.50 each. Tickets are available at the door on the days of the event.
"The Columbus Microbrew Festival is one more event that highlights another aspect of what we do daily at the North Market: a celebration of locally grown and prepared cuisine and small businesses." said David Wible, Executive Director for the North Market. "Building upon the success of the first two years of the event we've added some 'happy hours' on Friday night to kick off the Microbrew Festival."
North Market Columbus Microbrew Festival Schedule of Activities:
Friday, September 12, 5-9 p.m.
5-9 p.m., Microbreweries open for tasting on farmers' market plaza
5-7 p.m., Music by Great Mad Hoax
7-9 p.m., Music by the Andy Shaw Band
Saturday, September 13, 12-7 p.m.
8 a.m., North Market merchants and farmers open
9 a.m.-12 p.m.,Vintage scooter line-up and Scoot-A-Que breakfast (Dispatch Kitchen)
10 a.m. – 12 p.m., Music by Slate Ridge on porch
12 p.m.–2 p.m., Music by Cowboy Hillbilly Hippy Folk on porch
12–7 p.m., Microbreweries open for tasting
11 a.m.–4 p.m., Face painting
2 – 4 p.m., Music by Gipson and Fitz Trio on second floor
4 – 7 p.m., Music the Drowsy Lads
Festival hours are Friday, September 12 from 5-9 p.m. and Saturday, September 13 from noon -7 p.m., regular market hours 8 a.m.-5 p.m. For additional information on the North Market Microbrew Festival please call 614-463-9664.