ColLAboration 2 Hollywood – Recap with Pics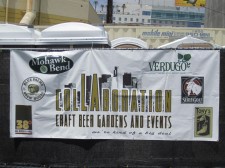 Business is picking up in the Los Angeles craft beer scene, as CoLAboration Beer Gardens and Events held their second outdoor event this past weekend in Hollywood. We attended the first event this past April, and we were very pleased with all aspects of the event.
The bar had been set high by the organizers of this event, so we were looking forward in seeing how this event would meet or exceed our expectations.
Pre Game
Jonny Fullpint and I are getting older and some might say smidgen wiser. We took the Metro Gold Line to the Metro Red line from Pasadena so we wouldn't have to look for parking, and we could comfortably indulge without compromising our safety. We were decked out in our TFP work shirts, and were surprised to meet some of our readers on the red line headed to Hollywood. The train got us to the event 30 minutes prior, so we avoided the opening rush and soaked up some sun.
The Scene
To the left of Blue Palms Brewhouse is a large parking lot. This lot was transformed into a remarkable beer garden with shady tents made for enjoying the finest craft beer in the land. ColLAboration set up refrigerated box trucks in each corner, one from Stone Brewing, one from Hangar 24, and the cutest little mini horse trailer from Firestone Walker all serving beer. While functional, it also served as billboards for the respective breweries which was also a great idea. The crowd was a nice mix of people: men and woman, some newbies and a heavy amount of seasoned veterans from the scene. Like the last event, there were tables set up underneath tents, I would say double the amount this time, and laid out very nicely. At festivals, I sometimes experience anxiety when trying to find space to relax, which worsens when I have to decide whether to get the next beer or lose my spot. There were so many places to sit that those worries went away. The weather was absolutely gorgeous. If only I had remembered sunscreen! While there was no food prepared on site, there was at least a half a dozen local restaurants prepared to deliver food to your table at the event. The hit of the day was the Mediterranean food from Al Wazir Chicken.
The Beer
As the billboard style beer trucks would indicate, Stone, Firestone Walker and Hanger 24 had a great presence at this event.  For us seasoned event goers, many of the beers that kicked the event off were stuff we were familiar with. Still, some of the tastiest, freshest local beer was there for the taking.  Those in the know were hawking the four members of ColLAboration (Ryan, Brian, Clay and Tony) for inside tips on when the hot stuff was being poured. We announced The Bruery's The Wanderer would be on tap, and there was a decent sized buzz surrounding that beer. Once we were tipped off the keg was going to be put on, we gathered our friends and got in line.  As good as The Wanderer was, it was tied for first place with Kern River 5th Anniversary Double IPA.  With a little less fanfare than the Wanderer, Kern River's beer was so hoppy, so fresh and so tasty. Also too strong for it's own good, as I wound up putting a few chinks in the armor with my multiple helpings of that beer. While good for some and bad for others, the pours remained generous at this event. Honorable mention goes to Russian River Supplication, Alesmith Speedway Stout, Hangar 24 Chocolate Porter and Stone Smoked Porter with Vanilla Bean.
The Vibe
It was conveyed to us that last event had around 1,000 people, this event doubled that with around 2,000 people.  The overall demeanor was just as chill as the Burbank event, it was just twice as loud with twice the amount of people.  The security team was cool, the beer servers were really cool, some more easy on the eyes than others. Everyone seemed to be having a great time drinking great beer in the beautiful weather.
Overall
While doubled in size, the vibe and atmosphere was as great as the first event. The choices in food were great as was the beer. We have it on good authority that future ColLAboration events will be veering away from the "All California beer theme" which should be awesome for us die hards. A huge huge plus for holding this event near adequate public transportation. Just as important as having fun is staying safe. Cheers!