Cleveland Beer Week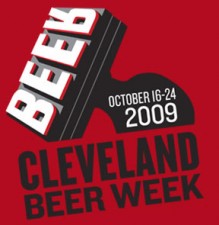 A Celebration of Craft Brews: October 16-24, 2009
Cleveland, OH – The first annual event of its kind in the Cleveland area, CLEVELAND BEER WEEK was established as a not-for-profit, collaborative celebration to raise awareness of and education for the strong American and imported craft brew industry, while promoting patronage at local establishments.
With nearly 100 years of beer-making in its history, Cleveland will pay homage to this great American industry during the first annual Beer Week from Oct. 16 – 24, 2009. Far from your average pub crawl, the festival has infiltrated the entire city—from favorite hangouts such as the Winking Lizard and Brennan's Colony, to local grocery stores like Heinen's, to celebrated Cleveland restaurants like Lolita and Nighttown. On any given night during the week-long event, at least 40 local establishments will showcase American and imported craft brews with beer specials, unique tastings, food pairings, and live entertainment.
Beer Week will culminate with BREWzilla, "the monster of beer tasting," held at The Arcade in downtown Cleveland on Saturday, Oct. 24 from 6– 11p.m. Among the attractions at BREWzilla are more than 80 different tasting stations featuring craft and imports from over 50 breweries, delectable culinary pairings, and a meet-and-greet with renowned brewers. Different tasting packages can be purchased online in advance and all proceeds from the reception will go to the Malone Scholarship Fund.
For a complete listing of events and to pre-order tickets, please go to www.clevelandbeerweek.org
Cleveland is a haven for beer-lovers, so don't forget to check out….
Great Lakes Brewing Company(GLBC) – Any beer enthusiast would hate to miss the GLBC, located in the Ohio City neighborhood of downtown Cleveland. GLBC isOhio's first microbrewery and now boasts a six building complex, including a brewery, brew pub, banquet facilities, and gift shop. Try the renowned Dortmunder Gold or the Edmund Fitzgerald Porter.
Additional Microbreweries – There are a host of microbreweries in Northeast Ohio that offer excellent craft beers and are worth a visit. The Cleveland Chop House and Rock Bottom Breweries both have homemade brews on tap and serve up delicious food to match. Others to check out are the Willoughby Brewing Company, Rocky River Brewery, and the award-winning Akron's Hoppin' Frog Brewery.