Stone Brewing Co. Heads Into Connecticut & Louisiana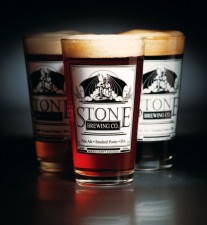 Stone Brewing expands distribution and overall operations
Stone Brewing Co., BeerAdvocate's "All-Time Top Brewery on Planet Earth," began distributing in Connecticut on September 22, 2009, and will begin distributing in Louisiana on October 20, 2009. With the addition of these two states, Stone's beer will be available in a total of 33 states.
Louisiana will be celebrating the arrival of the nation's 18th largest craft brewery with "72 Hours of Arrogance." For more information on events in these areas, see the Louisiana Stone Events google calendar and the Connecticut Stone Events google calendar.
In an effort to meet demand in current and future areas of distribution, Stone Brewing Co. installed two new fermenting vessels in their Escondido, CA brewery on September 18, 2009, bringing their total count of fermenting vessels to 26. See the North County Times article covering the new fermenters.
Each new fermenting vessel holds approximately 400 barrels of beer (12,400 gallons), and will increase Stone's overall brewing capacity by 7,000-8,000 barrels per year.
Stone also recently purchased a $6.2 million, 57,509 square ft. building to allow for further expansion of brewing and distribution operations.
What the Press is Saying in Louisiana
"'This is the biggest beer thing that has happened in the state of Louisiana,' said bar owner Polly Watts, 'so long term it will change the face of craft beer in the city.'" – Nola.com (full story)
"Area beer geeks are already counting down the days until bottles of Smoked Porter, Levitation Ale and Arrogant Bastard Ale arrive. 'Stone is the opposite of the beers that we have down here,' said Dan Stein, of Stein's Market and Deli. 'We're talking about big, strong, hoppy, bold beers.'" – Nola.com (full story)