Cleveland Beer Week: A Celebration Of Craft Brews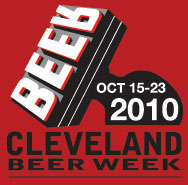 The second annual CLEVELAND BEER WEEK will take place from October 15-23, 2010, and will feature hundreds of craft beer tastings, dinners, demonstrations, leisure activities, educational programs, and specials at bars, restaurants, and grocers throughout Cuyahoga County.
Established in 2009 as the first event of its kind in northeast Ohio, CLEVELAND BEER WEEK is a not-for-profit, collaborative celebration that raises awareness of the strong craft beer industry while promoting patronage at local establishments and energizing the region's retail economy.
Building on the success of last year's CLEVELAND BEER WEEK, organizers are planning events now for 2010. As events are finalized, postings will continue daily and through the end of September. Visitors to the website may search events by date, venue, brewery, or neighborhood, and select events of interest to create their own personal itinerary. Of particular note are the following flagship events, competitions, and offerings:
The Ohio Craft Brewer's Association has organized a collaboration that will produce six custom beers packaged specially for Cleveland Beer Week. The 12 breweries participating in the largest known collaboration of its kind in the world have created six brews, including a Strong Ale Barrel Aged by Great Lakes Brewing Company and Cellar Rats, a Smoked Black Lager by Thirsty Dog Brewing Company and Indigo Imp, a Rye Kolsh by The Brew Kettle and Willoughby Brewing, a Wet Hopped IPA by Fat Heads and Black Box, an Imperial American Porter by Hoppin' Frog and Rocky River Brewing Company, and an Alt Bier by Buckeye Brewing and Cornerstone Brewery. Mixed 12-packs and cases will be sold at retailers including Heinen's in early October, and participating breweries will feature all six brews on draft during Cleveland Beer Week.
The Society of Northeast Ohio Brewers (SNOBS) is sponsoring a "Son of BREWzilla Homebrew Competition" that is open to all entries registering before October 9 at www.beersnobs.org/contest. Participants may submit their first beer—from a choice of 23 categories—for $7 and additional beers for $5 each. The competition takes place at Fat Heads Brewery and Saloon (24581 Lorain Road, North Olmsted OH) on Saturday, October 23 at 9:00 a.m. Winners will be announced at BREWzilla that same evening, with medals and prizes awarded for top finishers in each category. The winning Best of Show entry will be brewed professionally by Fat Heads for the 2011 Great American Beer Festival Pro-Am held in Denver, Colorado. Organizers are also accepting applications for judges and stewards for the competition, recognized officially by the Beer Judge Certification Program (BJCP).
* CLEVELAND BEER WEEK will conclude with BREWzilla, a monster of a beer tasting, on Saturday, October 23 at the Galleria at Erieview in downtown Cleveland (1301 East Ninth Street, Cleveland OH). BREWzilla will feature more than 70 breweries, a special "Ohio Brewery" area with various beers from local breweries and a last chance for the public to taste all 2010 collaborative brews, and appetizers that pair well with craft brews. Brewer's Circle tickets are $75 and include event admittance at 6 p.m., the opportunity to taste rare and exclusive brews in the new "Brewer's Circle Lounge" open all evening and hosted by Erieview's Café Sausalito, and a commemorative CLEVELAND BEER WEEK t-shirt. General Admission tickets are $50 and for admittance from 7-11 p.m. All proceeds benefit Malone Scholarship Fund.
"With the number of stellar breweries in our region, as well as the enormous popularity of craft brews both here and across the nation, it seems only fitting that our brewers, retailers, specialty stores, and distributers join together for CLEVELAND BEER WEEK as a week-long educational celebration," notes John Najeway, president of the Ohio Craft Brewers Association and co-owner of Thirsty Dog Brewing Company.
For more info visit www.clevelandbeerweek.org