Cigar City – The Order of The Red Banner Event Info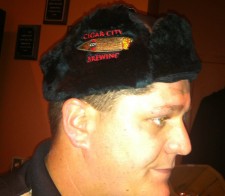 Cigar City Brewing in Tampa, FL is holding a very special beer event August 3, 2011 entitled The Order of the Red Banner.
Read on about this beer dinner that will feature our favorite Russian Imperial Stout, Marshal Zhukov. Cheers!
Alright so here's the deal:
On this very special night we will empty out our walk-in cooler and host a dinner in a more "traditional" Russian environment, i.e. the blistering cold!

Attendees will receive the appropriately official CCB Siberian head gear fit for the tundra to keep everyone warm, but also so we can take a bunch of pictures of all in attendance wearing funny hats!
Once we begin, we will dive into a 5 course meal of authentic Russian cuisine surely to consist of Borscht, Blintzes, and other traditional fare from the Motherland. The exact menu will be announced shortly, but be assured the only thing missing will be the vodka and with the beers we will present you won't be missing it!
In addition to this wonderful meal paired great beer, hosted in the appropriate climate, complete with a furry hat you didn't have to hunt for yourself; all attendees will receive 2 bottles of this years release of Marshal Zhukov ahead of anyone else AND will be able to choose a growler of their choice from a selection of very rare offerings here at the brewery.
(Of these growler offerings, expect very rare stouts, barrel aged goodies, and perhaps something even beyond that depending on what we find aging around the brewery.)
Due to the space inside the cooler (i.e. "Little Moscow") we will allow ticket sales for the first 30 people. Tickets will be $100 and will be all inclusive.
How do I get tickets to this magnificent event you may ask?
All reservations can be placed by emailing [email protected] You will be required to fill out a Credit Card authorization form and either fax or email it to us for your reservation to be completed.
Limit 2 tickets per comrade.