Cider Summit Seattle 2011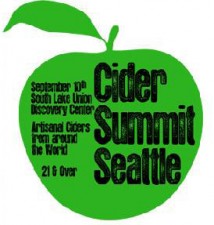 Cider Summit NW Returns to South Lake Union Discovery Center Park "Count Up" Begins to 2nd Annual Event on 9/10/11
Seattle, WA – SBS Imports and the Seattle Beer Collective are pleased to announce the second annual edition of Cider Summit Seattle. The event will be on Saturday, September 10, 2011 from 11am-7pm at Discovery Center Park in South Lake Union near Westlake & Denny Way.
Last year's inaugural Cider Summit was the area's largest-ever tasting of artisanal ciders with over 50 elegantly crafted products from Washington, Oregon, British Columbia, California, England, and France. "We received an enthusiastic response from both the producers and attendees," noted SBC's Ian Roberts. "We are very excited to be back for year two and reach an even wider audience of cider enthusiasts."
The owners and cidermakers will be on hand to inform and guide guests through the samplings which will be available in 3-ounce and 6-ounce portions. Each featured cider is made from 100% pressed apples (or pears) and is made without concentrates or other additives. In addition to the superb range of ciders, the event will feature food from Brave Horse Tavern, ongoing demonstrations of apple pressing courtesy of Ryan's Juice, live music, and even bottle sales to go.
"We believe we've created a unique event," added event co-founder Alan Shapiro of SBS Imports. "The cider selection will be even more diverse this year and the vast majority will be available to taste at $2.00. It should be a great opportunity for attendees to sample many of the best ciders available in the United States if not the world."
Tickets are $20 in advance and $25 (cash only) at the door and are available online via Brown Paper tickets and at many of the area's leading bottle shops. Admission includes a tasting glass and 10 drink tickets. From 11a-12n arriving guests will receive 2 additional "happy hour" tickets. Additional drink tickets will be available for sale onsite at $2 per ticket. The event is 21 and over only. Dogs will be allowed on event grounds. For more information including a list of participating ciders please visit www.cidersummitnw.com.
Cider Summit Seattle benefits Northwest Cider Association (www.nwcider.org) and The Institute for Myeloma & Bone Cancer Research (www.imbcr.org). The Northwest Cider Association promotes awareness of artisan produced ciders among the general public and fosters cooperation within the industry for all producers. IMBCR is one of the world's leading independent research organizations developing effective therapies to increase the quality of life and longevity of myeloma patients. Cider Summit sponsors include Brave Horse Tavern, Click Distributing, Seattle Weekly, and KMTT.