Check Out Dr. Bill Sysak's Events During GABF Weekend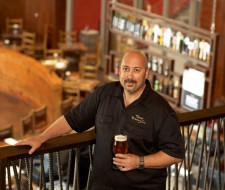 Our friend Bill Sysak, known as Dr. Bill will be hosting some very well thought out events around Downtown Denver during GABF Weekend.  You can meet us as well at his Falling Rock tasting on Saturday. Cheers!
GABF Oct. 11th-14th
Oct. 11th  Beer and Food Pavilion Festival Floor
7:30 pm – 8:00 pm
The Mountain and the Sea
This presentation will showcase the spectacular beer and food from Colorado and southern California. Featuring Brian Dunn of Great Divide Brewing Company, Bill Sysak of Stone Brewing Co. and Jorel Pierce of Euclid Hall restaurant, the demonstration embodies the celebratory and creative nature of craft beer and thoughtful food. From the craggy summits of the Rocky Mountains to the frothy waves of San Diego, these pairings highlight great beers and food from the two regions.
Oct. 12th –Falling Rock Tap House
10pm – Stone Brewing (Escondido, CA) is bringing us tasty kegs including their Japanese Green Tea IPA aged in Red Wine barrels, CaliBelgique aged in Red Wine barrels, a 2004 Old Guardian & a "Stone Suitable for Cave Aging" Smoked Porter – A Tribute to Danny Williams
Oct. 13th – Annual Falling Rock Beer Tasting with Dr. Bill (year 12)
Chris Black has once again graciously given me a part of the downstairs of the FR on Saturday night Oct. 13th during the GABF for my annual tasting. We will be starting at 8:00 pm this year.
"For those of you who haven't attended my previous events we ask for a $40 contribution to help pay for the beers supplied and that we will order from Chris and to tip out the service staff. Also feel free to bring beers you may want to share. That being said I will be pouring 100 great offerings. Beers from; The Lost Abbey, Russian River, Cascade, Alesmith, Firestone, Green Flash, Ballast Point, Crooked Stave, DFH, Stone, Avery, New Belgium, Great Divide, The Bruery, 50/50, Cigar City, Upright, Stillwater, Deschutes, Mikkeller, Evil Twin, Pretty Things, Iron Fist, Nebraska, Alpine, Cantillon, Drie Fonteinen, De Dolle, etc., etc., etc.. I'm sure some of the previous years attendees will have some imput on the event."
Please sign up at this page if you can make it: http://beeradvocate.com/events/info/56584