Celebrate the 7th Annual Maryland Brewer's Oktoberfest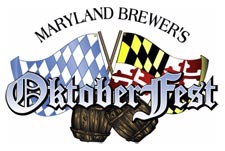 Come Celebrate the 7th Annual Oktoberfest with the Brewer's Association of Maryland
Timonium, MD – The Brewer's Association of Maryland is proudly presenting the 7th Annual Maryland Brewer's Oktoberfest at the Maryland State Fairgrounds in Timonium, MD on Saturday, October 11, 2008 from 12:00 p.m. – 8:00 p.m. This lively festival will include beer gardens featuring over 75 beers from twelve local breweries, a delicious assortment of food, live bands, exciting contests, oompah bands and much more.
"The Maryland breweries have enjoyed watching this event grow year after year into one of the best beer festivals in the mid-Atlantic," states Hugh Sisson, President of the Brewer's Association of Maryland. "We are thrilled to have the best breweries in the State here for a wonderful event and a fun-filled atmosphere."
While tasting Maryland brews and shopping around for numerous arts and crafts, attendees will be entertained by dancing and musical performances on two stages. The main stage will consist of local acts such as Black Falls Band, Great Train Robbery and the Kelly Bell Band. The "German" stage will feature Baltimore's finest oompah revelers – the Edelweiss Band and the Home Brew Contest. Everyone will also be amused by the Miss Oktoberfest Contest, Baltimore's Best Beer Belly Competition and the Wife Carrying Contest – all guests are welcome to participate and win cash prizes.
Festival attendees can enjoy munching on classic German and Oktoberfest treats like Bratwursts, Sausages, Sauerkraut, Sour Beef, Snitzel, Potato Pancakes, Pretzels and other staples. Great festival foods will be available as well. The 75 beers will be supplied by the greatest microbrews in Maryland including Clipper City Brewing Company, Brewers Alley, Barley & Hops Grill & Microbrewery, Flying Dog, Franklins, Red Brick Station, Brewers Art, The Raven, DuClaw, Growlers and more.
An admission ticket and a souvenir tasting mug is $20.00 in advance or $25.00 on-site and include eight beer tokens. Designated driver admission is also available for $10.00 and includes water. Kids 12 and under are free. For more information on purchasing tickets for the Maryland Brewer's Oktoberfest, please visit www.MDOktoberfest.com or call 800-830-3976.