Celebrate 5 Years Of Surly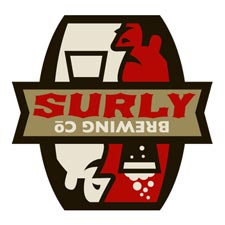 FIVE YEARS OF GETTING SURLY! – It's been five years since we started getting Surly! Now it's time to celebrate with not just one party, but a month of parties at some of the bars and restaurants that first gave us a chance.
This is our anniversary AND your anniversary. In 2006, we put the finishing touches on a big idea. We liked beer, felt it should be brewed a certain way, and we had expectations of what defined good beer. We started Surly to do things our way, and it's been a great five years. Thank you! Now, let's celebrate.
We are hosting a month of fan-appreciation parties. Bars and restaurants that were our original accounts will be taking part in celebratory Surly events and offering special Surly brews such as Pentagram, Moe's Bender, Mole Smoke, AHA Rally Beer and others including rare firkins like Cherry Wood Bender, Tea-Bagged Furious, and Oak-Aged Abrasive. There will be extremely limited amounts of these specialty beers at events. That's why we are having 16 of them. The particulars of each event (time and beers poured will be posted on Facebook, Twitter and our web-site 2 days before the event). There will be a rotating selection of beers at the events.
The events will also include giveaways, including bottles of Darkness, apparel and cases of beer, and special prices on Surly beer.
Where and When:
Monday, January 31 – Café Twenty Eight, 2724 W 43rd Street, Minneapolis (THIS EVENT IS SOLD OUT)
Wednesday, February 2 – Blue Nile, 2027 East Franklin Avenue, Minneapolis
Friday, February 4 – Winterfest, Minnesota History Center, 345 Kellogg Boulevard West, Saint Paul (THIS EVENT IS SOLD OUT)
Saturday, February 5 – Mackenzies, 918 Hennepin Avenue, Minneapolis
Monday, February 7 – Muddy Pig, 162 Dale Street, Saint Paul
Tuesday, February 8 – Acadia Event, 329 Cedar Avenue South, Minneapolis
Thursday, February 10 – McCormick & Schmick's, Nicollet Mall, Minneapolis
Tuesday, February 15 – Happy Gnome, 498 Selby Ave, Saint Paul (THIS EVENT IS SOLD OUT) The Happy Gnome will be giving away 2 tickets to the dinner. Show up at 4:00 PM for your chance to get tickets!
Wednesday, February 16 – Pizza Nea, 306 East Hennepin Avenue, Minneapolis
Thursday, February 17 – Stub & Herb's, 227 Oak Street, Minneapolis
Sunday, February 20 – Triple Rock, 629 Cedar Avenue, Minneapolis
Monday, February 21 – Grumpy's NE, 2200 4th Street NE, Minneapolis
Wednesday, February 23 – Bryant Lake Bowl, 810 West Lake Street, Minneapolis
Sunday, February 27 – Mac's Industrial, 312 Central Avenue, Minneapolis
Monday, February 28 – Groveland Tap, 1834 St. Clair Avenue, Saint Paul
Wednesday, March 2 – Whistle Binkies, 3120 Wellner Drive NE and 247 Woodlake Drive SE, Rochester
What:
Surly Pentagram – In honor of  Surly Brewing's fifth anniversary we brewed a 100% Brettanomyces fermented brown aged in used red wine barrels. Brettanomyces is a yeast used in place of "normal" brewing yeast, it produces a unique flavor profile. Pentagram is a single barrel "tasting" of  Five. Five (with all barrels blended together)will be released later this spring in bottles and kegs. Pentagram has strong flavors of earthy black cherry and raisins with a sour finish.   6.66%abv 14IBU
Moe's Bender – Chocolate, vanilla bean, coffee and Oak Aged Bender.  5.1%abv  45IBU
Mole Smoke – Inspired by the flavors in mole. This version of our Smoked Baltic Porter uses 4 different chili varieties, roasted cacao, cinnamon and vanilla   8.8%abv 30IBU
Imperial Brown Eye – Brewed for the 2009 AHA Wort Rally. We fermented this Imperial Brown Ale with a Belgian yeast strain and aged it in second use Bourbon barrels. 8.5%abv 40IBU
See you drinking!
omar ansari
Surly Brewing