CBC 2012: Can Diego After Party at Blind Lady Ale House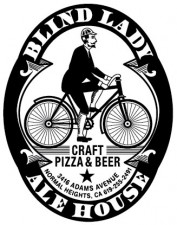 The folks at Golden Road Brewing teamed up with San Diego's Blind Lady Ale House Wednesday night for their Can Diego after party celebrating some of the country's finest canned craft beers.
With the thousands of people in town for the Craft Brewers Conference and a good crowd participating in the San Diego DrinkAbout, there was a manageable line out the door to get into this hot event. Attendees were able to mix and mingle with fellow craft beer fans and brewers while getting a taste of a few popular brews not available for distribution in California.
We had a great time running into old pals and meeting new faces from breweries including folks from Canada's Amsterdam Brewery and our Arizona affiliates over at San Tan Brewing.
Can Diego 2012 Beer List:
IPA, Avery Brewing
Joe's Pilsner, Avery Brewing
Chin Wig, Maui Brewing
Coconut Porter, Maui Brewing
La Perouse White, Maui Brewing
Chaka, Oskar Blues
Dale's Pale Ale, Oskar Blues
G'Knight, Oskar Blues
Hefeweizen, Golden Road Brewing
Point the Way IPA, Golden Road Brewing
8-Bit Pale Ale, Tallgrass Brewing
Velvet Rooster, Tallgrass Brewing
Halcyon Wheat, Tallgrass Brewing
Cynic Ale, Surly Brewing
Furious IPA, Surly Brewing
Coffee Bender, Surly Brewing
Bitter Brewer, Surly Brewing
Bender, Surly Brewing
Mexican Logger, Ska Brewing
ESB, Ska Brewing
Euphoria Pale, Ska Brewing
Modus Hoperandi IPA, Ska Brewing
Torpedo IPA, Sierra Nevada