CBC 2012 – A Master Pairing Dinner at Trellises Garden Grille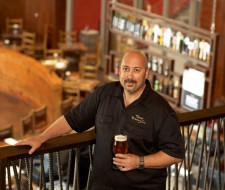 Trellises Garden Grille
Executive Sous Chef Josh Phillips of Trellises Garden Grille at The Town and Country Resort will be preparing a fabulous four course dinner on Thursday, May 3.
Joining him will be Bill Sysak, known as "Dr." Bill in the craft beer community for the last 30 years. Bill is the Beverage Supervisor and Certified Cicerone at Stone Brewing World Bistro and Gardens.
Bill is considered one of the foremost experts at pairing beer and food. He has teamed with Josh to pair a local craft beer with each course, elevating both the food and beers to new levels.
"It's a no brainer taking Master Pairings on the road to the Town and Country Resort to celebrate the return of the Craft Brewers Conference to San Diego"
The Town and Country Resort, 500 Hotel Circle North, San Diego, California, 92108 | map
*Purchase Tickets*
First Course
Fire Roasted Shrimp and Scallop Wonton
With Cognac Cocktail Sauce and Swiss Chard
Beer Pairing: The Bruery Loakal Red
Second Course
Fresh Arugula Salad
Tossed with Sliced Mandarin Oranges, Cilantro,
California Avocados and Red Onion
Lemon Basil Vinaigrette
Beer Pairing: Iron Fist Spice of Life
Third Course
Roasted Rack of American Lamb
White Truffle Mashed Potatoes
Sautéed Yellow Beets and Asparagus Tips
Beer Pairing: AleSmith Wee Heavy Scotch Ale
Fourth Course
Lemon Blossom Cake
Four Layers of Lemon Bliss
Balanced with Toasted Coconut and Blueberries
Beer Pairing: 2012 Stone Imperial Russian Stout
Contact – Terry Sobkowiak | [email protected].  www.brownpapertickets.com/event/243973