Cambridge Brewing Co Anniversary Update With Beer List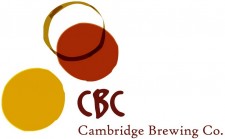 Will spent hours this past week sorting through barrels and kegs of beer that have been stashed away for "another day." Well for many of those beers, that day will be May 4th.
I know that we will have Cambridge Brewing Co. favorites like The Audacity of Hops and Biere de Miel as well as newer beers like Rye, Rye, Rocco and Pearls of Wisdom. And as has been tradition for the past few years, Will and the Brew Crew have brewed up a brand new beer in honor of the 24th Anniversary: it is tentatively being called "24." With so many beers pouring both inside and outside on the patio, I know you'll find one that's sure to please your taste buds.
And boy do I have huge news from Chef David. We will be smoking and roasting a whole pig on the patio grill to serve throughout the day! This isn't just any pig either; this pig was raised on the spent grain from each brew day here at CBC! The pig comes from our friend Antonio Fontes, who owns a small, low key farm raising cattle and pigs. Each week Tony comes to fill up his pickup truck with a week's worth of grain used in brewing and uses it to feed his livestock.
I know that I don't have to tell you twice and I'll see you here on Saturday, May 4 anytime from noon till 1am because we'll be partying all day and night in celebration of 24 years! Don't forget the Matt Berlin Band will be here from 6 – 9 on the patio to keep tempo with the night.
Beer List
Main Bar
Regatta Golden 5.50 pint 2.00 sample
Cambridge Amber 5.50 pint 2.00 sample
Tall Tale Pale Ale 5.50 pint 2.00 sample
Charles River Porter 5.50 pint 2.00 sample
Spring Training IPA 5.50 teardrop 2.00 sample
Tripel Threat 6.25 tulip 3.00 sample
Bitchin' Bitter 5.75 pint 2.00 sample
YouEnjoyMyStout 5.75 snifter 3.00 sample
Golden Lambic 5.75 flute 2.00 sample
The Audacity of Hops 6.25 tulip 3.00 sample
"24" 8.00 petit 4.00 sample
Higgs Boson 5.75 teardrop 3.00 sample
Cerise Cassée 6.25 flute 3.00 sample
2011 Bannatyne's Scotch Ale 6.25 teardrop 3.00 sample
Ozymandias 6.75 petit 3.00 sample
Bière de Miel 5.25 petit 2.00 sample
Pearls of Wisdom 5.75 flute 3.00 sample
Me, My Spelt, and Rye 5.75 tulip 3.00 sample
Rye, Rye, Rocco 6.00 flute 3.00 sample
Flower Child IPA cask conditioned 6.00 pint 3.00 sample
Beer Garden
Regatta Golden 5.50 pint
Cambridge Amber 5.50 pint
Tall Tale Pale Ale 5.50 pint
Charles River Porter 5.50 pint
Spring Training IPA 5.50 pint
Bitter 5.75 pint
Chico Suave 6.00 pint
Sgt. Pepper 6.25 pint
Smokin' in the Valley 5.75 pint
2010 Heather Ale 6.00 pint
Flower Child IPA cask conditioned 6.00 pint
Cheers!
Laura
Cambridge Brewing Company
cambridgebrewingcompany.com – @CambridgeBrewer – facebook