California Beer Festival – Santa Cruz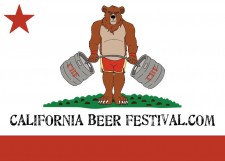 Santa Cruz, CA – The ending staple of Santa Cruz County Beer Week is The Legendary California Beer Festival (CBF). Once again coming back to beautiful Aptos Village Park on Saturday August 10, 2013. With over 70 craft brews on tap, mouth watering food, bocce ball and live entertainment with three GREAT live bands. Back by popular demand the electrifying 14 piece tribute band to Michael Jackson….FOREVERLAND! CBF is the event of the year for any beer enthusiast! CBF's main goal is to shine a light on the craft beer movement and celebrate great beer! Tickets sell out every year so get your tickets today to ensure a great time! We will see you at CBF!
VIP Early Bird Experience $70
This exclusive 300 ticket VIP experience is ideal for the true hardcore Craft Beer Fans. VIP guests will take place prior to the gates opening to the general admission ticket holders. Take advantage of this great opportunity to taste reserve or signature beers from participating breweries and get a chance to meet the brewers them selves! VIP Meet The Brewer Tickets Includes: Access inside the CBF gates an hour early for samples of reserve and specialty brews from participating breweries (1) CBF souvenir pint glass (Can only be redeemed during CBF hours. Pick up your Pint Glass at the CBF Booth on your way out) (1) Meal ticket good for any meal from any CBF Food Vendor (1) Bottled water You must be 21 year of age or older with a valid ID to enter CBF.
Craft Beer Heaven Ticket $45
Craft Beer Heaven – This is a chance to expand your mind and educate yourself on new and old styles of beer! Craft Beer Heaven Ticket Includes: (1) CBF Souvenir Tasting Cup, Beer Samples and Live Music and Entertainment. You must be 21 year of age or older with a valid ID to enter CBF. Please print out your ticket and bring them to the front gate.
Designated Driver Ticket $25
Dont drink but still want to go to CBF and hang out with friends and family making sure they get home safe? Well then the DD ticket is perfect for you! Designated Driver Ticket Includes: A designated driver ticket includes entrance into the festival (DD Ticket Holders can NOT sample Beer) (1) Free meal from any food vendor Bottle Water Live music and entertainment You must be 21 year of age or older with a valid ID to enter CBF. Tickets will be mailed to you two week before the event.
www.californiabeerfestival.com – facebook – click here to buy tickets