Breckenridge Brewery's 22nd Anniversary Party July 7, 2012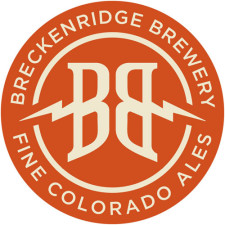 Who: Breckenridge Brewery of Colorado
What: 22nd Anniversary Party – a pig pickin' foot stompin' hoedown!
When: Saturday, July 7, 2012 11:00 a.m. – 6:00 p.m.
Where: 471 Kalamath Street, Denver – on the South side of the brewery/Tasting Room
Why: Because we want to celebrate 22 great years in Colorado with our friends and families…and we like pig pikin' foot stompin' hoedowns!
Details: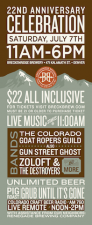 $22 All Inclusive (music, beer, food until it runs out)
Live music starts at 11:00 am
Colorado Goat Ropers Guild
Zolopht & the Destroyers
Gun Street Ghost
Colorado Craft Beer Radio Show is broadcasting live from the party from Noon to 2:00
Unlimited Breckenridge Beer (firkins, limited releases, never released…)
Also featuring beer from our neighbors, Renegade Brewing Company
FREE PIG ROAST 'TIL IT'S GONE!
For tickets and additional information, go to:
http://www.breckbrew.com/events-1/22nd-anniversary-party