Bottle Logic Brewing Celebrates 1st Year w/ "Week of Logic"
(Anaheim, CA) – Bottle Logic Brewing will be celebrating their first year of operation with a weeklong festival featuring 10+ new barrel aged beer releases, 9 fan-favorite variant beers, and specially paired dishes from Orange County's most popular food trucks.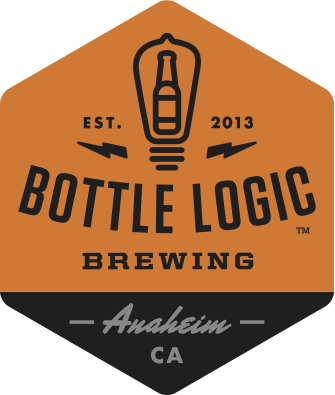 The "Week of Logic" kicks off on Sunday, March 22nd with the re-release of two acclaimed barrel-aged beers: Darkstar November Imperial Stout and Dr. Strangematter Imperial Saison. Each day following will see the release of at least one new barrel aged beer, including the brewery's first sour brew on Monday, March 23rd. The festival culminates on Saturday, March 28th with the release of 'Ideation 2015,' their anniversary wheat wine aged for ten months in bourbon barrels.
Guests will have the opportunity to commemorate their visits with a "Week of Logic" Passport, wherein they can learn about each day's special releases and jot down tasting notes of their own. These Innovators will earn a special stamp for their passport upon each day's attendance, and there will be prizes for varying tiers of collection.
The Bottle Logic team is excited to revisit many fan-favorite variant beers throughout the week, many of which originated as experimental ideas cultivated by the patrons themselves. The brewery has been honored to establish its place in the Orange County craft beer community, thanks to this devoted group of beer drinkers. The "Week of Logic" celebrates them, the craft culture, and the process of brewing an idea off the paper and into a pint glass!
Complete list of beer releases throughout the "Week of Logic:"
Sunday
'Darkstar November 2014' – Imperial Stout aged in Buffalo Trace Bourbon Barrels
'Dr. Strangematter' – Imperial Saison aged in Chardonnay Barrels
'War & Peach' – Wheat Ale with Peaches and Habaneros
Monday
'Sour Prince' – Saison soured in Oak Barrels for One Year
'Holy Cow' – Milk Stout with Roasted Green Curry
Tuesday
'Dark & Stormy' – Ginger Beer aged in Rum Barrels
'Green Jade' – Green Tea IPA
'Teacursion' – Tropical Tea IPA
Wednesday
'Passionate Dragon' – Collaboration with Arizona Wilderness Brewing; Sasion brewed with Passion Fruit and Dragon Fruit, aged in Sauvignon Blanc and Zinfandel Barrels for Eight Months
'Anaheim, California' – Wheat Ale with Anaheim and California Peppers
'Toasted in Tahiti' – Wheat Ale with Coffee and Coconut
Thursday
'Cobaltic Porter' – Baltic Porter Aged in Nicaraguan Rum Barrels
'Fundamental Observation' – Imperial Vanilla Stout Aged in Bourbon Barrels
'Imperial Hodor' – Imperial Brown Ale Brewed with Medieval Spices
Friday
'Sangria Tripel' – Belgian Tripel Brewed with Lemon, Lime, Grapefruit and Orange Zest, Aged in Red and White Wine Barrels
'The Greyhound' – West Coast IPA with Fresh Grapefruit Zest
Saturday
'Darkstar November: Brewmaster's Reserve Barrel' – The Best Barrel of the 2014 Batch, Allowed to Age for a Full Year
'POG Juice' – Wheat Ale with Fresh Pineapple, Orange and Guava Juices
'Ideation 2015' – Anniversary Wheat Wine
About Bottle Logic Brewing Company
Bottle Logic Brewing, makers of Double Actuator and a host of forward-thinking beers, began as a hobby in founder Wes Parker's garage in 2010. The production brewery opened to the public in February, 2014, and quickly gained traction with innovative beers and a retro-futuristic themed Tasting Room. Today Bottle Logic Brewing produces six year round beers: She Shot First – Pale Wheat Ale, Tattered Prince – French Style Saison, Calf Life – Milk Stout, Recursion – West Coast IPA, Double Actuator – Double IPA and 2014 GABF Gold Medal Winning Lagerithm – American Dark Lager, along with an assortment of weekly variants and seasonal releases.
"We brew beer for people with curious minds and adventurous palates. At Bottle Logic, we believe there will always be a frontier to explore, that there's no substitute for hard work, and that nothing is more thrilling than a mind-blowing beer."
For more information, visit www.bottlelogic.com.