Bootlegger's Brewery First Ever Pumpkin Party Tonight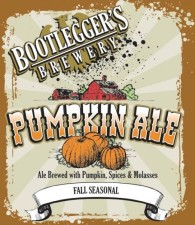 Fullerton, CA – Join Bootlegger's Brewery at the tasting room tonight for our first ever Pumpkin Party. Honoring everyone's favorite fall seasonal, we've busted out some very fun and tasty variations of our beloved Pumpkin Ale. We'll also have our friends from Falasophy Truck, so stop in for food and Pumpkiny goodness.
Pumpkin Ale Variants:
Pumpkin Ale – Oak Aged with Bourbon
Pumpkin Ale – Oak Aged with Grand Mariner and Cocoa Nibs
Garam Masala Pumpkin (Pumpkin Ale with Indian Spices)
Pumpkin Ale – Oak Aged With Red Wine
Pumpkin Ale – Chai tea and toasted coconut
Pumpkin Ale – Pumpkin Wine + Spices
Pumpkin Ale – Cranberry and marshmallow topping
Pumpkin Ale – With ginger and hot tamales
Pumpkin Spiced Latte (Pumpkin ale with coffee, vanilla and lactose.
Bootlegger's Brewery
September 26 2014 – 6pm
130 S Highland Ave, Fullerton, California 92832
www.bootleggersbrewery.com – @bootleggersbrew – facebook