Bootlegger's 3rd Anniversary Party – Pictures and Recap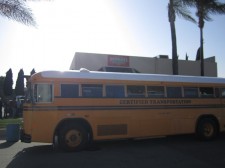 Bootlegger's Brewery in Fullerton, CA celebrated their 3rd birthday this past weekend.  The still fairly small brewery with the thirsty loyal following had outgrown using their brewing facility as a place to hold a party, so about 3 weeks back, Bootlegger's announced they would be holding their party at a SECRET LOCATION.
Jonny Fullpint and I rolled down to the brewery to gear up for the second session, not knowing exactly what we were getting into. Click on the pictures to begin a slide show.
The Suspense
After arriving 30 minutes past 5PM, there was a modest line going into the brewery, as Mrs. Bootlegger was getting everyone situated with tasting glasses and food/drink tickets.  Then, we all piled onto a BIG YELLOW SCHOOL BUS.  Sitting on a school bus took me back to being a kid, and I quickly imagined a young version of Jonny and Danny Fullpint pulling girls hair and shooting spitballs. Once the bus was packed, the bus driver took us a mere half a mile away to a warehouse in Fullerton.  Even after arriving, I didn't really know where exactly I was, so at this point, it remains a SECRET LOCATION.
The Scene
We all got off the bus, and into a really large warehouse.  Keeping in line with the school theme, the warehouse was setup like a high school dance, but with stations of excellent beer instead of punch.  There was plenty of room for people to roam around, there weren't any long lines for the stations, and we were all treated to so many Bootlegger's beers we haven't tried yet, and some I hope they make again. As far as beer goes, everyone was given what I thought was the perfect amount of taster tickets.  The beer of the night was easily the Barrel Aged Imperial Black Phoenix.
The World Famous Firkin's opened up the party with a set of some originals and covers.  They rocked it hard. After they were done, there was some more live music followed by a hip hop DJ.   People were mingling, it never got too rowdy, and people were all smiles the entire time.
The Food Trucks
If you are a regular at Bootlegger's Brewery, you know you will always find a bite to eat from a number of local gourmet food trucks.  Bootlegger's coordinated two trucks to serve each session, and for session B, we had Bacon Mania and Dos Chinos. Rather than folks line up at the trucks outside of the warehouse, a food truck employee took orders inside the party, and bused the food in from the truck to the party.  With Jonny and I being the bacon fans that we are, we used our first food ticket on Bacon Mania.  After waiting in line to place our order, we were assured our food would be ready in 10 minutes. The 10 minutes was more like 10 hours!!  We were told by an insider that Bacon Mania deviated from the script, and started playing by their own rules, causing a humongous backup.  Well, 10 hours later, we got our food, and I'll be honest. It wasn't very good. I would have said the same thing had it came 10 minutes later.  So, we jumped in the Dos Chinos line, and were taken care of swiftly, and all was well.
Overall
Great beer, good grub, fun party vibe, happy people all made for a smash hit party.  Aaron and Patricia were busting their ass trying to make sure everything ran smooth and that everyone was happy, and they did a killer job.  I got a kick out of the high school dance vibe, and hope they do this again. In parting, I want you all to support your local craft brewery, and if you live close to Bootlegger's, I can't think of a finer local craft brewery to support. Cheers!