Blue Palms Brewhouse 3rd Anniversary Re-Cap and Photos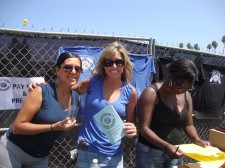 Blue Palms Brewhouse, Hollywood's premier craft beer watering hole, celebrated their 3rd anniversary this weekend with an outdoor beer festival of epic proportions.
Featuring a tap list of over 60 beers, build-your-own cow leg sandwiches, and live entertainment, the event drew a great crowd throughout the day including some of Southern California's most important craft beer VIPs.
Owner Brian Lenzo was the most gracious of hosts as we spotted him running from one end of the event to the other prepping their two whole steamed cow legs, dunking his employees in the dunk tank, and making sure everyone was happy as can be. Blue Palms general manager Matt Olesh helped man the beer stations; bringing out surprise beers one by one throughout the day. The Bruery even contributed a specially brewed vanilla sour just for the occasion.
Live music hit the scene a few hours into the event as the beer-themed local band The Firkins took the stage, while others relaxed in the summer sun. Stone Brewing Founder & CEO Greg Koch made a special appearance early in the evening, sharing a few inspirational words (and some Stone 15th Anniversary Escondidian Imperial Black IPA) with an excited crowd.
Overall, Blue Palms' 3rd was a smash hit and we couldn't be happier for this fantastic establishment.
Below is the amazing taplist from the event. The Blue Palms crew made special trips to various breweries to acquire some of these brews,which made this event extra special.
Blue Palms Anniversary Tap list
Surprise Kegs:1.Stone 15th Anniversary Escondidian Imperial Black IPA
2.Founders KBS (Kentucky Breakfast Stout)(Inside Blue Palms)
1. Trumer Pilsner
2. Sierra Nevada Outta' Town Brown
3. Russian River Redemption 2010
4. Lost Abbey Saison Blanc Pilot 2011
5. 21st Amendment Watermelon Wheat
6. Blue Palms Hefeweizen
7. Eagle Rock Bourbon Oaked Solidarity
8. De La Senne Taras Boulba
9. TAPS Neo-Colonial Stout w/Tanzanian Peaberry Coffee
10. Heretic Taffebully
11. Ballast Point Even Keel Session
12. Russian River Pliny the Elder
13. Hanger 24 2nd Anniversary
14. North Coast Grand Cru
15. Lagunitas Fusion 6
16. Craftsman Honesty Ale
17. Deschutes Abyss 2010
18. Marin White Knuckle
19. Coronado Dumb Blonde
20. Lagunitas BA Cappuccino stout
21. Sam Adams Oak Aged Porter
22. Lost Abbey Brandy Angels Share 2010
23. North Coast Old Stock 2009
24. Kern River BA Class X (nitro)
Stone Station
1. Stone Double Dry Hopped Ruination
2. Port Brewing Adlib
3. Lost Abbey Deliverance 2010
4. Russian River Sanctification Batch 5
5. Russian River Temptation Batch 5
6. Bruery Blue Palms 3rd Anni – Vanilla Sugar Sour
7. Bruery Marron Acidifie
8. AleSmith Brewer's Blend Speedway – 30% BAFirestone Station
1. Russian River Blind Pig
2. Firestone Walker Abacus
3. Firestone Walker Parabola
4. Firestone Walker Double Jack
5. Moylan's Blarney BA – Heaven Hill
6. Big Sky Old Bluehair

Sierra Nevada Pouring Station
1. Green Flash Special Cuvee tripel
2. Oscar Blues Ten Fidy 2010
3. Port Brewing Older Viscosity 2011
4. Sierra/Dogfish Life/Limb
5. Eagle Rock Yearling
6. Beachwood Thrill Seeker IPA

Jockey Box Row
Drakes BA Imperial Stout w/ Brett
Alpine Pure Hoppiness
New Belgium/Allagash Vrienden
Lost Abbey Red Poppy 2011
Drakes Brandy Barrel Barleywine
Triple Rock 25th Anniversary Sour
Ballast Point Sour wench
Ballast Tongue Buckler
Ballast Sea Monster 2010
Ballast Point Sculpin (Nitro)
Barrel Aged Victory at Sea (Nitro)
Dogfish Head 120 min
Fox Barrel Maid of Orleans BA Pear cider
Fox Barrel Joan of Arc BA Apple cider
FiftyFifty Totality Imperial Stout (eclipse)
FiftyFifty Rouge Baril Baltique