Blind Lady Ale House Turns Three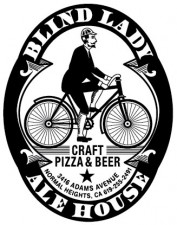 Blind Lady Ale House Craft Pizza & Beer
Greetings! – Three years ago this week we served our very first beer: Hangar 24 Alt, to be exact. Yep, Blind Lady is officially three. ANNIVERSARY T-SHIRTS are on sale starting tonight!
BLAH'S 3RD ANNIVERSARY WEEKEND DETAILS ::
:: WEDNESDAY, JANUARY 25 ::
>> HANGAR 24 was our first beer served so we are kicking off our weekend festivities with Hangar 24 Night and Glass Giveaway! Order Hangar 24 for just $2, and get a glass. Two per person, while supplies last. We open at 5!
:: THURSDAY, JANUARY 26 ::
>> CAN-A-PALOOZA for our THIRD CANNIVERSARY, with Koozie Giveaways! Craft beer cans are always fun, especially when you can hold it in a BLAH Koozie. We will give you a Koozie with the purchase of a can, while supplies last. What do we have in can? Maui, Oskar Blues, Avery, Golden Road, Caldera, New Belgium, Anderson Valley, and more…
:: FRIDAY, JANUARY 27 ::
>> Drink along with 94.9! At 7pm the boys will be drinking the same beers you can get in a flight on their show, Rock and Roll Happy Hour. Yep, we will have a flight of hoppy beers on, starting at 11:30am.
>>Progressive Casks All Day! You know the drill, $2 till 2pm, $3 till 3pm and $4 till 4pm and $5 till 5pm! We will have casks of Sierra Nevada Celebration Ale, Hangar 24 Pale Ale, Stone Double-Dry-Hopped IPA In that order, starting at 11:30 AM). From 5pm on it's $6 bucks, if we make it that far.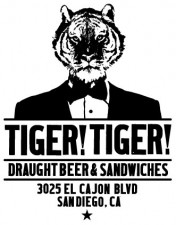 :: SATURDAY, JANUARY 28 ::
>> Craft Beer Run: So this is how we are gonna do it. Show up at BLAH at 10am, give us $23.33. You get an Anniversary T-shirt and 4 Beers on the run! At 10:15 we will run to Small Bar, drink a beer, run to Tiger, drink a beer, run to Toronado, drink a beer, and then run back to BLAH to drink the new Automatic release! It's 5 miles in all, at a pretty slow pace, particularly at the end. Lee suggested people wear capes. Just saying. Meet us at 10! You don't have to carry money, you can leave your stuff at BLAH, and you can wear a cape! Finish the run (in under three hours) and we will throw in a Three-Year Anniversary Glass!
>> AUTOMATIC RELEASE of THREE SPEED BROWN, very limited. We will run out. Made with Treehouse Coffee's Yirgacheffe and organic malts. We are tapping it at 11:30am (but Lee might show up a little later sweaty and in a cape.) No growler-fills or sales (except the ONE in the raffle prize!)
:: SUNDAY, JANUARY 29 ::
>> Family Friendly Townie Ride Through Normal Heights. Meet up at BLAH at 10am. It will be an easy-going and back to BLAH in time for lunch.
>> It's SOUR SUNDAY! Join us for a flight of amazing sours. Check this list out – Russian River Supplication, Lost Abbey Cuvee de Tomme, the brand new The Bruery Be-Razzled, Firestone Walker's three year aged sour Aggrestic and Craftsman's El Prieto Black Sour. Starts at 11:30 am.
>>Anniversary Glassware Giveaway @ 3pm. So Port just released their FNG Pale Ale, 5.5% and we decided that if you buy one of those, we will give you a glass. Starts at 3pm. That's the only beer that will get you a glass. While supplies last.
Let's re-cap: if you want one of our new Anniversary Glasses, you need to run or come on Sunday post 3pm and buy a Port FNG beer.
:: MONDAY, JANUARY 30 ::
>> BEER DINNER @ TIGER!TIGER!
There are about 10 tickets left to this dinner. Purchase them online at Brown Paper Tickets, here.And here is the Menu, subject to change.
First Course: Hitachino Nest White Ale
Mingle over a tray pass of Green Garlic-Yuzu Arancini with Lobster Stuffing and Bruschetta with Fuerte Avocado, Oro Blanco Grapefruit & Mint
Second Course: Automatic Three-Speed Brown
Sit for the Second Course of Scallops, Brussels Sprouts & Brown Butter
And if you're Vegetarian or Vegan you will dine on a Mushroom Risotto
Third Course: Alpine Nelson
Wood-oven-fired Berkshire Pork Chop, Boulangere Potatoes, Suzie's Farm Brocolini and a Kumquat-Ginger-Chili marmalade
If you're Vegetarian or Vegan you will be dining on a similar dish to the above but with a House-Smoked Tofu in place of the meat.
Fourth Course: Straffe Hendrik Quadruple
Hooligan Cheese with Honeycomb, Crostini and Hazelnuts
If you are Vegan, you will be served a stinky cheese alternative in our house-made Durian Fruit Sorbet!
Fifth Course: The just about to be released Cuvee de Tomme!
Chocolate cherry semifredo with candied almonds.
And for the Vegans' a delectable chocolate cake!
We've got just about ten tickets left. Buy yours here, now.
RAFFLE TIX: All Anniversary Weekend, starting tonight, we will be selling raffle tickets so you can win a big giant BLAH – TIGER!TIGER! Prize Package that includes sweatshirts, and t-shirts and the only growler fills of the new beer, plus glassware and a bicycle hat and more. It's worth a few hundred bucks easily. And all proceeds from raffle sales are going to Seeds @ City, the urban farm at City College.
Super Bowl Sunday at BLAH? Meh.
But Tiger! Tiger! has been fitted with a big screen! So we will show it there. Great steins o' beer + big TV = Swell.
BLAH HOURS
TUES-THURS 5pm-Midnite
FRI-SUN 11:30am-Midnite
TIGER!TIGER! HOURS
TUES-THURS 5pm-Midnite
FRI & SAT 11:30am-1am
SUN 11:30am-Midnite
Cheers,
Blind Lady Ale House and Tiger!Tiger! Staff
www.blindladyalehouse.com – @BlindLadyAle – Facebook