Beer Culture: Craft Beer Weekend Kicks Off at Ace Hotel Palm Springs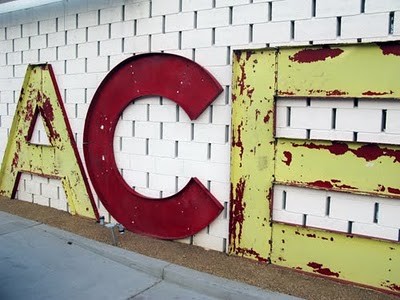 The Ace Hotel brand has been the epitome of hip, retro cool for many years now, and where there is hipness, there are hipsters. And where there are hipsters, there's usually PBR (don't ask me, I don't get it either). However, the Ace Hotel in Palm Springs is taking things in another direction. Oh, you know, with beers you've probably never heard of. Hipster beer jokes aside, there is some serious action taking place at the Ace this weekend as they kick off the first of their series of Beer Culture Weekends.
While weekend availability to stay at the hotel may be tough luck this short notice (it's worth trying anyway by calling 760-325-9900 and using the code BEER to book an awesome inclusive events package), tickets for the weekend's schedule of events are still available.
We highly recommend trying to snag a seat at tonight's Beer Pairing Dinner with beloved Full Pint friend Dr. Bill Sysak ($65). The event kicks off at 6PM at the Commune. At 10PM, the Amigo Room will feature a live DJ spinning drink-friendly tunes while craft beer flows from the Ace's new beer taps (from newest partners Stone Brewing).
Saturday, 8/4 has even more craft beer fun scheduled with a Pool Party and Craft Beer Tasting from 11AM to 6PM ($45 for a wristband and ten taster tickets) with live music from the Woodies and DJ Habanero. Then from 8 to 10PM, the weekend culminates with a special Dogfish Head Taco Party showcasing their latest brew Positive Contact ($45).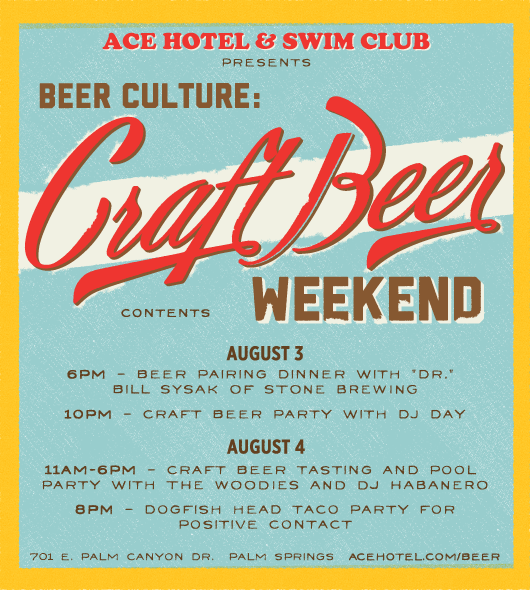 For more information on hotel accomodations and individual tickets to Craft Beer Weekend events, contact the Ace Hotel & Swim Club at 760-325-9900. The Ace Hotel & Swim Club is located at 701 E. Palm Canyon Dr., Palm Springs, CA. | acehotel.com/palmsprings