Beachwood BBQ & Brewing's 3rd Anniversary Celebration – July 5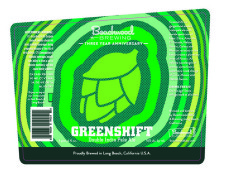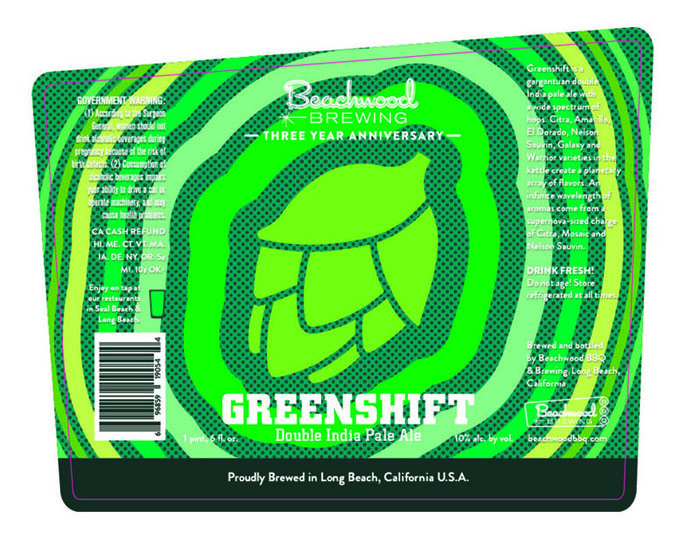 To commemorate Beachwood BBQ & Brewing's 3rd anniversary, the brewpub will be serving up 45 Beachwood beers on draft (twice as many as last year!!) including several rare gems, collaboration brews, and our 2013 GABF award winning favorites: Udder Love Milk Stout, Kilgore Stout, and Foam Top Cream Ale!
It wouldn't be an anniversary party without an anniversary beer. On July 5th, Beachwood Brewing will release its newest bottled brew—Greenshift Double IPA—a gargantuan double India pale ale with a wide spectrum of hops. Citra, Amarillo, El Dorado, Nelson Sauvin, Galaxy, and Warrior varieties in the kettle create a planetary array of flavors and an infinite wavelength of aromas from the supernova-sized charged hops. Greenshift will be available in bottles and on draft at Beachwood BBQ & Brewing.
Greenshift Double IPA
Brewed & bottled by Beachwood Brewing in Long Beach, CA
Drink Fresh! Do not age. Store refrigerated at all times.
10% ABV 99+ IBUs
Retail Price: $10/22oz bottle
www.beachwoodbbq.com
When: Saturday, July 5th, 2014
10am to 2am
Where:
Beachwood BBQ & Brewing
210 E 3rd St. Long Beach, CA 90802
What About The Food:
For the first time, Beachwood will open at 10am with a special brunch menu from Beachwood BBQ & Brewing's culinary team—led by Executive Chef & Co-Owner Gabe Gordon—that includes dishes like Poached Eggs on a Grit Cake with Andouille Sausage & Creole Cheron Sauce along with Banana Chocolate Chip Pancakes served with Pecan Maple Syrup. There will also be a pickle bar and food specials including House Made Pastrami Sandwich and Deep Fried Spaghetti and Meatballs.
What Beer Geeks Will Love:
In addition to the large variety of Beachwood Brewing beers, brewmaster Julian Shrago has created the ultimate Melrose Trifecta: Melrose IPA will be available in three different dry hop varieties including– Melrose IPA with Amarillo and Simcoe, Melrose IPA with Citra, and Melrose IPA with Mosaic!
What About The Beer:
Beachwood Brewing Tap List
3rd Dimension – Belgian-Style Tripel
Alpha Supreme – American Pale Ale
Alpha Waves – Session IPA
Annihilator – American Barleywine
Beyond a Reasonable Stout – Imperial Oatmeal Stout
Breaker – Hoppy Pale Ale
Bulldog – Dry Irish Stout
Chainsaaz Massacre – Imperial Pilsner
Control Malt Delete – Dark Mild
Dubbel In Paradise – Belgian-Style Dubbel
El Verano – Belgian-Style Saison
Foam Top – Cream Ale
Glenlongbeach – Scottish-Style "80 Schilling"
Greenshift – Double IPA
Hop Jitsu – West Coast India Pale Ale
Hoppa Smurf – Belgian-Style IPA
Hops of Brixton – Extra Special Bitter
James – American Brown Ale
Knucklehead Red -American Red Ale
Kilgore – American Stout
Loma Prieta – German-Style Pilsner
Melrose – West Coast India Pale Ale
Mocha Machine – Imperial Chocolate Coffee Porter
Onyx – Imperial Stout
Rose Royce – Belgian-Style Saison
Ryeco Suave – Belgian-Style Saison
Still Life – Smoked Double Oat Stout
Table Saaz – Belgian-Style Bière de Table
Tart Simpson – German-Style Berliner Weisse
Udder Love – Milk Stout
Wholly Smoke – Smoked Porter
Zwick In a Box – German-Style Zwickelbier
Beachwood Brewing Special Casks
Beyond a Reasonable Stout with Cacao, Coconut, and Vanilla Bean on cask
Full Malted Jacket with Scotch Oak on cask – Scotch Ale
Melrose IPA with Amarillo and Simcoe on cask
Melrose IPA with Citra on cask
Melrose IPA with Mosaic on cask
Beachwood Brewing Rare Beers
8 Buffalo – Barrel-Aged Imperial Stout
Barrel-Aged Jean-Quan Van Damme – Belgian-Style Quadrupel
System of a Stout – Armenian Imperial Coffee Stout
Tovarish – Imperial Coffee Stout
Beachwood Brewing Collaborations
Ghost of Jacob Barley – Strong Ale Aged on Coffee w/ Spices: Noble Ale Works Collaboration
Mrs. Stoutfire – Imperial Stout Smoked and Oaked: The Bruery Collaboration
Spicy Chocolate Alliance – Imperial Porter with Chili and Chocolate: Drake's Brewing Collaboration
Unapologetic – Double India Pale Ale: Stone Brewing & Heretic Brewing Collaboration
www.beachwoodbbq.com – @BeachwoodBBQ – @BeachwoodBBQ_LB – facebook