Avery Brewing Uncle Jacob's Stout 2014 Release Party Info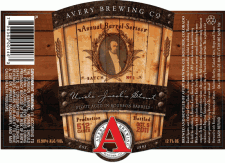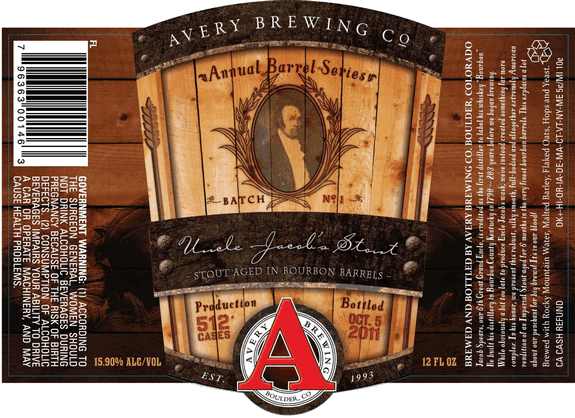 (Boulder,CO) – Jacob Spears, our 6th Great Grand Uncle, is credited as the first distiller to label his whiskey "Bourbon." He built his distillery in Bourbon County Kentucky in 1790 – 203 years before we began brewing. While obviously a bit too late to produce Uncle Jacob's wash, we've instead created something far more complex. In his honor, we present this robust, silky smooth, full-bodied and altogether extremely American rendition of an Imperial Stout aged for 6 months in the very finest Bourbon barrels. This explains a lot about our penchant for big brews! It's in our blood!
Join us for this year's Uncle Jacob's Stout release party! Bottle sales will begin at 1pm. Each Uncle Jacob's Stout is $12 per 12oz. bottle, limit 1 case (24 bottles) per person.
Bring cash for the lineup of rare and exclusive beers available on draft!
– Bolder Weisse – Rustic, cloudy, sour, and aged in oak barrels for 6 months with Brettanomyces (4.5% ABV)
– Chewblacka – India Black Ale brewed with rye and dry-hopped w/Chinook and Amarillo Hops (6.5% ABV)
– Trogdor the Burninator – German doppelbock with 30% beechwood-smoked malt (7.5% ABV)
– Khodynka – Bourbon barrel aged stout with vanilla beans (9.5% ABV)
– Nutty Professor – Imperial Stout dry-nutted with peanuts (10% ABV)
– Double Dry-Hopped Maharaja – Unfiltered with a pound of Simcoe® hops in the keg (10.2% ABV)
– Tweak – Demonic Belgian Imperial Stout with a hefty dose of Ozo's cold-pressed espresso blend (14% ABV)
– 2012 Beast – Massive vintage brew with flavors akin to a beautiful Carribean rum (16% ABV)