Atlanta Hotoberfest 2009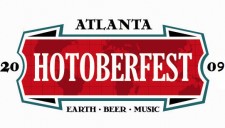 2nd Annual HOToberFest to return to Glenwood Park October 3rd
The southeast's only consumer-judged beer competition and sustainability festival is coming back for 2009, even bigger and better than before. Returning to Glenwood Park, HOToberFest promises to continue its unique combination of craft beer, exciting live music, fun food, local artists, and pro-sustainability messaging, all delivered 'off the grid' by way of Solar Power and Biodiesel.
The centerpiece of this one-day event is the beer-tasting, featuring over 110 craft beers from around the country and around the world. Festival attendees will have the opportunity to not only taste, but to cast their ballot for the winner of the 'Best Brew' at HOToberFest . The Firkin VIP Tent features an additional 18 beers from single runs, small batches or true micro-breweries, producing no more than 15,000 barrels in a year. This area also features enhanced seating, televised college football, private restrooms, complimentary 1 hour buffet, and more. It is limited to only 500 persons.
A non-profit event, HOToberFest raises awareness and funds for three specific pro-sustainability charities. 100% of event proceeds will go to Upper Chattahoochee Riverkeeper, Trees Atlanta, and Dialogue Start One. There's no better way to support these incredibly worthwhile causes and have a fantastic day listening to free live music, shopping the Artist Area and sampling the best craft beers in the world.
The beer tasting area of HOToberFest is 21-and-over only, but there's plenty of family-friendly fare. A large, free-of-charge public area will feature the music pavilion, and our World Market will include local artists, green info. affiliates, concessions, and kid-friendly activities, including a Make a Puppet workshop with Atlanta's Center for Puppetry Arts. A variety of nationally recognized musical acts will perform throughout the day, representing a wide variety of popular styles. As for food, popular local restaurants will be selling their specialties, along with traditional festival favorites like genuine German brats, pretzels and BBQ.
There will be both General Admission and VIP tickets for the beer tasting. Benefits of the VIP ticket include: access to special brews not available to the General Admission ticket holders, exclusive hors d' oeuvre hour, flat screen TV playing SEC football games, and more. Prices for General Admission Tickets will be $30 in advance and $35 at the gate. VIP Tickets will be $50 in advance or $55 at the gate, if still available. There is NO Charge for the general festival area.
To purchase tickets or learn more about HOToberFest, or to learn more about sustainability and our charities, visit the HOToberFest website at www.hotoberfest.net.
Click Here for a full list of beers (PDF)