Arizona Beer Week Returns Feb. 16 – 23, 2013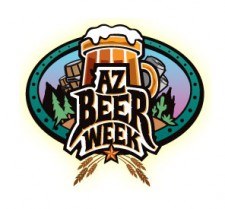 Phoenix, AZ – The buzz has begun. Arizona Beer Week, inarguably one of the best weeks of the year for the state's craft beer lovers, returns with the Arizona Craft Brewer's Guild's third annual celebration of all things sudsy Feb. 16 – 23, 2013.
Celebration Kicks Off with 13th Annual Strong Beer Festival,1 pm – 5 pm Sat., Feb. 16 at Steele Indian School Park
And this year, it's bigger and badder than ever, with more breweries, beer varieties and a plethora of new and returning events on tap from Flagstaff to Tucson and every brew-lovin' burg in between.
First on tap for this year's festivities is the 13th Annual Strong Beer Festival, something of a national holiday for the state's true craft beer connoisseurs , and the perfect opportunity to find a cure for what "ales" you – even if strong beers aren't necessarily your forte.
Once a year at Steele Indian School Park (300 E Indian School Road, Phoenix), craft beer lovers from across the region flock to a place where the brews flow freely, the artistry of brewing is celebrated and the hardest decision patrons need to make is whether to go with a porter or a stout. But first, they must buy tickets, which are now available for purchase at arizonabeerweek.com.
Strong Beer Fest, the premier kickoff event for the third annual Arizona Beer Week celebration has been deemed "Best Beer Fest" in Arizona, and features a wide variety of – you guessed it – strong beer styles on hand for tasting in addition to a plethora of top-notch food vendors and live musical performances to keep the festivities rockin'. Those who like their libations a bit lighter need not be swayed by the event name – despite its emphasis on strong beers, the festival will have plenty of options on hand for beer lovers of all levels.
The Strong Beer Festival sets the stage for a week chock-full of festivals, seminars, pairing dinners, pub crawls, tours, tastings and meet-the-brewer nights that together encompass one of Arizona's premier tourism and hospitality events.
For a complete list of events or to purchase tickets for the much-buzzed about celebration, visit arizonabeerweek.com – @AZBeerWeek – facebook.
Strong Beer Festival Information:
Feb. 16, 2013 1-5pm
Steele Indian School Park 300 E. Indian School Rd. Phoenix.
Tickets: $10-$45 (Limited VIP Tickets gets you into the event at Noon).
Designated Driver Tickets are $10
ABOUT THE ARIZONA CRAFT BREWERS GUILD:
The Arizona Craft Brewers Guild was established in 1998 and represents 26 microbreweries across the state. The guild promotes the craft brewing industry in Arizona by providing educational opportunities to brewers, distributors and consumers. The guild promotes quality craft beers and the responsible consumption of those products.