Announcing The Mighty Mites – A Session Beer Festival As Part Of PDX Beer Week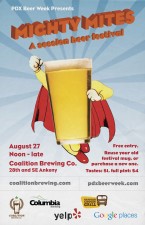 There is a pernicious assumption among beer fans that in order to bristle with flavor, a beer must be strong. The notion has led to rampant escalation in alcohol content – the steroid era of good beers. But it doesn't have to be so.
Throughout history, brewers have regularly packed intense flavors into small beers. To show just how lush and varied a small beer can be, Jeff Alworth of Beervana and Coalition Brewing are hosting the first annual Mighty Mites fest – a celebration of little beers with big flavors. All the beers are below 4.5% ABF, and many are below 4%.
Presented by Beervana, Coalition Brewing and Portland Beer Week
Saturday, August 27, noon until the beer runs out
Coalition Brewing Patio (Behind the pub at the Grilled Cheese Grill), 2724 SE Ankeny Street
The fest is a part of the line-up of the first annual Portland Beer Week, a celebration of the best beer city in America. Entry to the fest is free, and pours are $1 for four ounces of tasty session ales. Fest goers should bring a mug or glass from a previous fest; some will be available on-site as well. There will be music and tasty food in the form of sandwiches from the conveniently-located Grilled Cheese Grill.
The Beers
The fest features a dozen beers specially designed to highlight flavor and intensity. Breweries include Block 15, Hair of the Dog, Oakshire, Upright, Double Mountain, Coalition, Fort George and more. Beers include a Berliner weisse, a smoked porter, a Belgian wit, a small saison, and an example of traditional "small beer" made with the second runnings of a high-strength mash. Fest organizers will announce the complete line-up before the fest.
Beer geeks love "extreme" beer. Come to the Mighty Mites fest and see extreme taken in a whole new direction.
An official event of Portland Beer Week www.pdxbeerweek.com