AleSmith Mr. Padre 5.5K Walk/Run Fundraiser
San Diego, CA – AleSmith Brewing Company's new brewery, located off aptly-named AleSmith Court, will be hosting its first event for craft beer enthusiasts and baseball fans alike this Father's Day weekend. The AleSmith Mr. Padre 5.5K pays tribute to San Diego's very own Tony Gwynn. Nicknamed "Mr. Padre" for his unfaltering commitment to his hometown, Tony is considered one of the best and most consistent hitters in baseball history. All funds raised from this event will be used to kick-start a campaign to build a Tony Gwynn Museum within the new walls of AleSmith 2.0. Once constructed, the museum will support the Tony & Alicia Gwynn Foundation (TAG) by featuring ultra-rare memorabilia and artifacts collected by the Gwynn family over Tony's entire baseball career.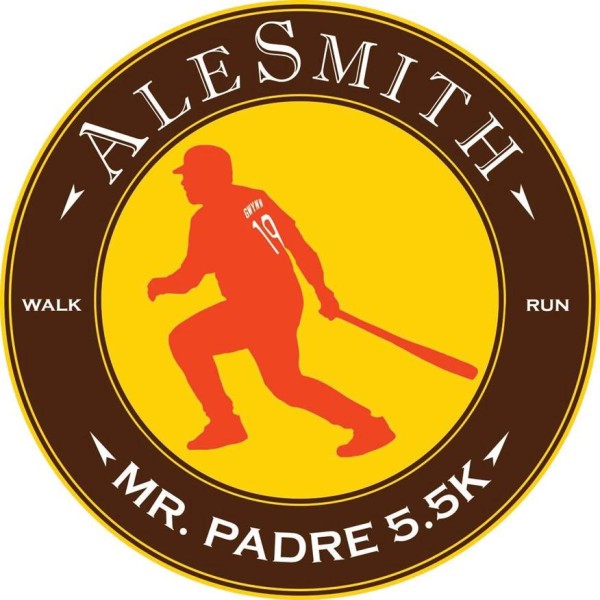 The Mr. Padre 5.5K starting line will be located at 9990 AleSmith Ct. and the race will begin promptly at 9:00 a.m. on Saturday, June 20th. Open to all ages and fitness levels, the 5.5K's route will include pit stops at both AleSmith facilities and stretch a total of 5.5 kilometers instead of the 5 kilometer distance usually associated with 5K runs. The inspiration behind the extra half kilometer stems from Tony Gwynn's self-dubbed "5.5 hole," the thin slice of infield between the third baseman and shortstop where the majority of his record-breaking hits were targeted.
Registration for the event is now live and can be found online at Active.com, keyword "AleSmith." Hoping to make one of Tony's last dreams come true, AleSmith Brewing Company is currently seeking local sponsorships to support this very special event.
REGISTRATION LEVELS:
Minor League – $30.00: Race Bib, T-Shirt & (1) Post-Party Beer Ticket Included
Major League – $50.00: Race Bib, T-Shirt, Goodie Bag, Souvenir Pint Glass & (2) Post-Party Beer Tickets Included
Hall of Fame – $90.00: Race Bib, T-Shirt, Goodie Bag, Souvenir Pint Glass, (2) Post-Party Beer Tickets, AleSmith T-Shirt, AND a Hall of Fame: Imperial San Diego Pale Ale 750ml Bottle Signed by Peter Zien & Tony Gwynn Jr.
Little League – $0: Race Bib Included for Kids 10 & Under (T-Shirts Available for Purchase)
Those who are able to participate in the walk/run can register here: http://bit.ly/AlesmithMrPadre5_5k.
About AleSmith Brewing Company
AleSmith Brewing Company was founded in August 1995 in San Diego, California. AleSmith owner and CEO, Peter Zien, purchased the brewery in 2002 and has spent the last 13 years growing an internationally recognized brand dedicated to hand forged ales and craftsmanship. In 2008, AleSmith was recognized as the Great American Beer Festival® "Small Brewing Company of the Year." AleSmith is currently celebrating its 20th Anniversary and expanding into a new state-of-the-art brewing facility this summer located off of AleSmith Ct. in Miramar, San Diego.
www.alesmith.com – @AleSmithBrewing – Facebook