5th Annual Zwickelmania Returns Feb. 16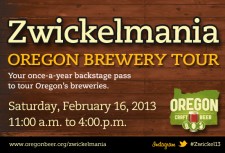 5th annual Zwickelmania returns offering visitors a unique look inside Oregon breweries around the state. Celebrate the wood anniversary with tours, tastings and specials
Portland, OR – Over 23,000 visitors set their sights on Oregon breweries during Zwickelmania in 2012 and that figure is projected to grow on Saturday, February 16, 2013 at the fifth annual Zwickelmania.
Free Zwickelmania shuttle tours are located in Portland, Bend, Salem, Corvallis and Eugene and entry is free at all participating breweries. A full list of shuttle schedules will be added soon to the Oregon Brewers Guild website.
"Each year, Oregon breweries are seeing a rising interest from people who are excited to experience the inner workings of a brewery," says Oregon Brewers Guild executive director, Brian Butenschoen. "This is that rare time of the year where people get exclusive access to the breweries and brewers."
This is the fifth anniversary – or the wood anniversary. Attendees should be on the lookout for barrel-aged beers, such as ones from Full Sail Brewing, Breakside Brewery and the unveiling of Oakshire Brewing's "Hellshire III."
Visitors are encouraged to take pictures of the breweries while they're touring and to use the hashtag #Zwickel13 when posting to Twitter and Instagram. Additionally, anyone who posts a photo from the event to the Zwickelmania Facebook page will be entered for a chance to win a prize package containing two glasses and 10 tickets each to the upcoming event "Cheers to Belgian Beers."
About the Oregon Brewers Guild
The Oregon Brewers Guild is Oregon's non-profit trade association for the state's independent breweries. The Guild, which receives no state funding, comprises 92 brewing companies, 72 associate or supplier members and more than 3,200 enthusiast members or S.N.O.B.s (Supporters of Native Oregon Beer). For more information, see www.oregonbeer.org.