5th Annual New York City Beer Week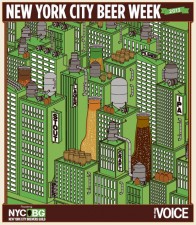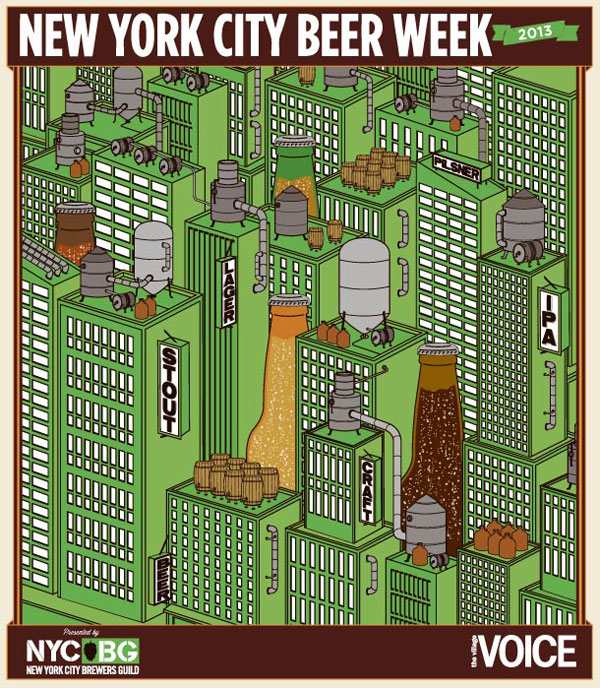 Now under the direction of the New York City Brewers Guild, the 5th Annual New York City Beer Week will bring together all 12 NYC craft breweries, nationally and internationally renowned breweries, over 100 venues with more than 300 events, celebrity chefs, and acclaimed restaurants for the premier craft beer spectacle of the year.
NYC Beer Week Three Signature Events:
02/22: NYC Beer Week Opening Night Party – 7pm – 10pm / $45
Galapagos Art Space / 16 Main Street, Brooklyn
http://nycbeerweekopeningnight.eventbrite.com
Tickets include an official NYC Beer Week 2013 tasting glass, live music, and unlimited beer tastings from over 20 American craft breweries including NYC Brewers Guild Members 508 Gastrobrewery, Brooklyn Brewery, Bronx Brewery, Chelsea Brewing Co., Heartland Brewery, Kelso, La Birreria at Eataly, Rockaway Brewing Company, Shmaltz, & Sixpoint; and their friends from Allagash, Avery, Bear Republic, Captain Lawrence, Dogfish Head, Empire, Goose Island, Greenport, Harpoon, Ithaca, Ommegang, Peak Organic, Peekskill, Smuttynose, Speakeasy, Stone & Victory. Featuring 2.5 hours of blues, R&B, surf rock, and boogie-woogie provided by: Scott Metzger's WOLF! (w/Taylor Floreth & Jon Shaw) & Scott Metzger & Friends featuring Hagar Ben Ari (Sharon Jones & The Dap Kings) and Tony Mason (Bo Diddley)
02/27: NYC Brewer's Choice – 6pm – 10pm / $60
City Winery / 155 Varick Street, NY, NY
www.NYCBrewersChoice.com – brewerschoice2013.eventbrite.com
The 3rd Annual Brewer's Choice returns as the signature event of NYC Beer Week featuring 20+ brewers from 20+ breweries paired with artisanal food prepared by local NYC chefs.
Current line-up (subject to change): Keynote speaker – Scott Vaccarro, Captain Lawrence, NY / Garrett Oliver, Brooklyn Brewery, NY / Jason Perkins, Allagash, ME / Phil Leinart, Brewery Ommegang, NY / Hutch Kugeman, Crossroads Brewing Company, NY / Craig Frymark and Evan Klein, Barrier Brewing, NY / Jeppe Jarnit-Bjergsø, Evil Twin Brewing, Denmark / Pete Dickson, Sixpoint Craft Ales, NY / Jeff O'Neil, Peakskill, NY / Jesse Ferguson, Carton Brewing, NJ / Chris Post, Wandering Star Brewing Company, MA / Kelly Taylor, Kelso, NY / David Yarrington, Smuttynose, NH / Damian Brown, Bronx Brewing, NY / Paul Kretzer, Spider Bite, NY / Bill Herlicka, White Birch Brewing, NH / Brian Strumke, Stillwater Artisinal, MD / Jeremy Cowan, Shmaltz (He'Brew/Coney Island), NY / NYC Brewers Guild Member Brewery Tasting / More TBD
Food will include Peekskill Brewery Restaurant, Bobolink Farms, Coach Farm Cheese, Cabot Cheese, Sigmund's Pretzels, Blind Tiger (Chef Tom Harder), Jimmy's No. 43, Aeros Oysters, Nordic Bread, Mile End Deli, My Friend's Mustard, Might Quinn BBQ (Chef Brendan Corr), East Village Meat Market, and others TBA providing 20 different tasting stations.
03/03: NYC Beer Week Closing Party – 12pm – 4pm
La Birreria at Eataly / 200 Fifth Avenue, NY, NY
http://www.eataly.com/birreria
Featuring local beers from NYC Brewers Guild Members. / Pay as you go Food and Drink. / Admission to bar and restaurant is first come, first served. Space at La Birreria's bar area is extremely limited. To guarantee admission please make a reservation in the restaurant on urbanspoon.com. (Food purchase is necessary for a table in the restaurant.)
www.nycbeerweek.com – @nycbeerweek – facebook