38 Degrees 3rd Anniversary Barrel Aged Beer Festival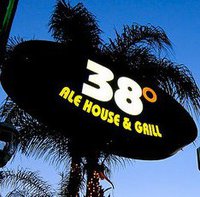 Does 38 Degrees get better with age? We like to think so! Not too many beers get better, but some special barrel aged gems from some of our favorite breweries will be showcased on draught for 38's 3rd Anniversary event. Just as the barrel aged madness last June, various styles such as sours, porters, stouts, strong ales & barleywines racked straight from a barrel will be flowing from the taps Saturday, June 16th starting at 1:00 pm.
Over 25 barrel aged beers on tap and plenty of fresh ales as well to quench your particular thirst. We still carry over 180 specialty bottles as well FYI. No entry fee at all… Full 38 degrees service all day & night to all who would like to raise a glass to 3 fantastic years serving very fine foods & brilliant beers here in Alhambra. Official list released Monday June 10th.
38º Degrees – 100 W. Main Street, Alhambra, CA 91801