2013 Ameri-CAN Canned Craft Beer Festival Just 4 Days Away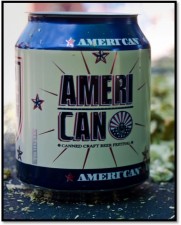 Scottsdale, AZ – We're just a few days away from the Ameri-CAN Canned Craft Beer Festival on Saturday, May 18th at the Scottsdale Civic Center where 60 breweries from across the country will crack the cans on over 200 different craft beers and pour their ice cold liquid gold for beer lovers to enjoy in celebration of American Craft Beer Week.
Doors open at noon when thirsty fans will receive their collectible 4 oz sample can which can be used to taste up to 20 different beers from local, regional and national breweries.
Presale general admission tickets are available now for $25 online at www.cannedcraftbeerfest.com. For a limited time, tickets are also available at all seven valley Whole Foods locations including Tucson at the presale price of $25. Day of general admission tickets will be sold for $35 while supplies last. This event will sell out so be sure to get your tickets early! General admission includes entry into the festival with collectible 4 oz sample can, which can be used to sample up to 20 beers from participating breweries.
VIP tickets are $100 (presale only, while supplies last), and include general entry with a 4 oz souvenir can, VIP lanyard for all access and exclusive entry into the VIP area with catered food and treats, private restrooms and a meet and greet with brewers. This is a 21 and over event, no exceptions. Ticket purchasers and all guests must be 21 or over and must present a valid picture ID upon admission.
Here is the complete list of breweries participating in the 2013 Ameri-CAN Canned Craft Beer Festival:
| | | |
| --- | --- | --- |
| 3rd Shift | Goose Island Brewing | Prescott Brewing |
| 21st Amendment Brewery | Grand Canyon Brewing | Redd's Apple |
| Abita Brewing | Half Acre Beer | Redhook Brewing |
| Anderson Valley Brewing | Hop City Brewing | Revolution Brewing |
| Austin Beerworks | Hopworks Urban Brewery | SanTan Brewing |
| Blue Sky Brewing | Jacob Leinenkugel Brewing | Shock Top |
| Blue Moon Brewing | Joseph James Brewing | Sierra Nevada Brewing |
| Bohemian Brewery | Kona Brewing | Sixpoint Brewery |
| Boulder Beer | Lost Rhino Brewing | SKA Brewing |
| Breckenridge Brewery | Lumberyard Brewing | Snake River Brewing |
| Cigar City Brewing | Marble Brewing | TailGate Beer |
| Crazy Mountain Brewery | Maui Brewing | Tallgrass Brewing |
| Crispin Cider | Moab Brewery | Two Brothers Brewing |
| DC Brau Brewing | Mudshark Brewing | Uinta Brewing |
| Fort George Brewery | New Belguim Brewing | Uncommon Brewers |
| Four Peaks Brewing | Nola Brewing | Woodchuck Hard Cider |
| Golden Road Brewing | Oskar Blues Brewing | |
| GoodLife Brewing | Payette Brewing | |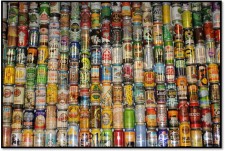 In addition to the ice cold suds, other event highlights include live entertainment by local bands, a food truck food court, beer Olympics and more. The live entertainment lineup includes performances by Good Rust (12-12:45 p.m.), Pride Through Strife (1-1:45 p.m.), 80 Proof (2-3:15 p.m.) and Boom Shed (3:30-6 p.m.).
Hotel accommodations for the Ameri-CAN Canned Craft Beer Festival are provided by Hotel Valley Ho. A discounted hotel rate of $169 plus tax is available to festival ticket holders, just use the promo code CRAFT online at www.hotelvalleyho.com when making a reservation.
For more event information or to purchase tickets, visit www.cannedcraftbeerfest.com.  Also, be sure to "like" the event Facebook page at facebook.com/AmeriCANfestival and follow on Twitter@AMERI_CANFEST.
Special thanks to our official sponsors who helped make this event possible! Sponsors include SanTan Brewing Company, Rexam, Whole Foods, World of Beer, Briess, Cask, Hopunion, Hensley, World Class Beer, Draft Magazine, All About Beer Magazine, Discount Cab, White Water and Hotel Valley Ho. Thank you to our contributing sponsors the Brewers Supply Group, CraftCans.com, The Brew Bros, The Full Pint, Marty's Trophies & Awards, Yelp, Young's Market Company of Arizona, Local Lily, Phoenix Bites, Local First Arizona and Front Doors.
A portion of event proceeds will benefit The Beer for Brains Foundation which is a national, non-profit organization of craft-beer lovers, distributors and brewers, who are committed to raising public awareness about brain cancer, engendering compassion for its victims and helping fund groundbreaking research leading to a cure. Based in Arizona, the Beer for Brains Foundation is one of only a handful of beer industry-related charities currently operating in the United States. Visit the Beer for Brains Foundation online at www.thebeerforbrainsfoundation.org and like on Facebook at www.facebook.com/beerforbrains.
About HDE Agency
HDE Agency is a full service agency dedicated to expanding client visibility and establishing marketable brand positioning. We offer a wide range of brand development services including public relations, design, advertising, social media, print collateral and event production. By establishing a strong foundation of action based campaigns, HDE Agency strives to transform our clients' goals and objectives into tangible efforts measurable by an increase of customers, sales and community relationships.
HDE Agency is one of the largest producers of special events in Arizona with an impressive roster of more than a dozen annual signature events. HDE's roster of special events includes the Downtown Chandler Oktoberfest, Taste. Chandler's Culinary Festival, Summer Splash and Ameri-CAN Canned Craft Beer Festival.  HDE's most notable signature event, The Great American Barbeque & Beer Festival is Arizona's largest event of its kind drawing thousands of fans to the downtown Chandler area for a full day of BBQ, Beer & Music. The 2012 Great American Barbeque & Beer Festival was designated as an official centennial event in the City of Chandler and it won the title of Outstanding Event of the Year at the 18th Annual AzTEC Awards.
Visit HDE Agency online at www.hdeagency.com for a complete list of services and learn about our current projects, events and community engagements through the HDE Agency blog at www.hdeagency.com/blog.  HDE Agency can help you expand your reach!