2012 Colorado Brewers' Festival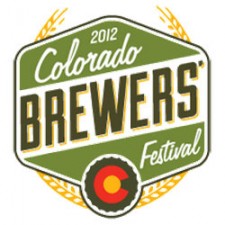 The 23rd Annual Colorado Brewers' Festival will take place June 23 & 24, 2012.  Over 70 Colorado beers and 40+ Colorado breweries are represented along with 15 bands on two stages of great live music Saturday and Sunday in historic Downtown Fort Collins.
This event brings the community and long time friends together to celebrate. Enjoy sampling Colorado's best brews, fabulous food, conversations with brewers, and two stages of stellar Colorado music.
Click Here for the full 2012 entertainment Line-Up (pdf).
NEW THIS YEAR! Check out the new things at the festival this year:
Get a full size beer of your favorite brew!
Free Water Stations (provided by The City of Fort Collins & Bohemian Foundation)
Rio Grande Mexican Restaurant's remote "Rio Patio" with famous Rio margs and salsa!
VIP Tasting packages with hard to find beers and gourmet food in the Choice City Butcher and Deli VIP Experience Tent
SHADE – we are using Washington Park this year!
AND
Connoisseur Beer Tasting Party
Spend Friday night tasting new and small batch brews! Where these Colorado Brewers' will be serving their special batches to be tasted only on Friday: Avery Brewing Co., Crooked Stave, Crabtree Brewing Co, Breckenridge Brewery, Bristol Brewing Co., Fort Collins Brewery Funkwerks, Great Divide Brewing Co., Left Hand Brewing Co., New Belgium Brewing Co., Odell Brewing Co., Oskar Blues Brewery and Pateros Creek Brewing Co. (This is a partial list of breweries pouring). Enjoy good food served by Choice City Butcher & Deli! A special commemorative glass will be given to attendees. For more details about this evening see below where tickets are listed – tickets are limited!
DATES: JUNE 23 & 24, 2012 (and Friday, June 22 Connoisseur Beer Tasting Party)
HOURS: 11:00am-12:30pm VIP Only General Admission 12:30-6:30pm Saturday & Sunday
Click Here To Purchase Tickets (also available at the gate)
For more info visit www.downtownfortcollins.com