2011 Southern NH Brewers Festival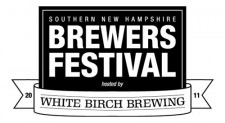 Hosted by White Birch Brewing – In 2009, White Birch Brewing opened its doors as a nano brewery making beer 15-20 gallons at a time.
It was against all recommendations from the industry experts. Well, in 2011 as a seven barrel brewery, we are going to host our own beer festival and do things our way against all expert recommendations, again.
Where will the festival be held?
Under the big top at White Birch Brewing in Hooksett, New Hampshire come rain or shine.
When is the fest?
Saturday, July 23, 2011 with a VIP session beginning at 5 p.m. and general admission starting at 6 p.m. The entire event will end at 9 p.m.
How much are tickets?
Cost is $40 for the general admission and $50 for the VIP. There are 500 general admission and 100 VIP tickets available.
What does a VIP ticket get me?
The VIP tickets allow you in to the festival an hour earlier than the rest of the crowd. It will give you a chance to sample beers with shorter lines, and speak with the brewers in a more quiet setting. Outside of that, both tickets are identical.
What is included with the ticket price?
Beer poured by the breweries
Tasting glass
Festival program
Food from two great restaurants
Plenty of drinking and rinse water
Free parking
Where do I get tickets?
Tickets are on sale now and can be purchased at Brown Paper Tickets through the following link:

Where's the best place to stay if I want to spend the night?
– For lodging ideas, check out NH.com. It's a great website for hotel info and other area attractions.
– If camping is more of you style, then Bear Brook State Park is about 10 miles north of the brewery.
For a complete list of participating breweries please click here and make sure to follow @SNHBFest on twitter for all the latest updates