1st Williamsburg Cask Ale Festival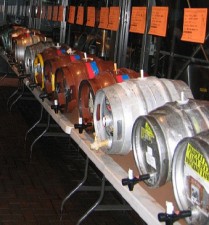 The inaugural Williamsburg Cask Ale Festival will be held 8th to 10th January at 'dba Brooklyn'. This is a joint event courtesey of Ray Deter (dba) and Alex Hall.
Featuring at least 12 *rare* and delicious cask-conditioned beers, of various styles, tapped simultaneously. No entry fee, pay-per-drink, reasonable prices.
Beers are available while stocks last, first come first served. Over 21s only, please bring ID to avoid disappointment.
Definition of cask ale (and, occasionally, lager): Unfiltered, unpasteurized beer brewed only from traditional ingredients, matured by secondary fermentation in the container from which it is dispensed, and served without the use of extraneous carbon dioxide and served at cellar temperature (about 54F), so cool but not chilled (NOT room temperature).
Cask Ale is also known as 'Cask-Conditioned Beer', and 'Real Ale'. It is beer as it was invented to be, basically, before modern chilled, filtered, and force-carbonated beers took over the mainstream and deposed the original, old-school methods for the sake of convenience and increased profit (of big brewers) through standardisation.
For more info visit www.gotham-imbiber.com.
Please drink responsibly, and never drink and drive.