18th Annual San Diego Festival Of Beer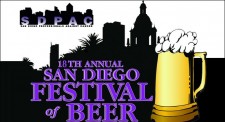 This year's 18th Annual San Diego Festival of Beer will take over the streets at Columbia and B again to bring you a fun-filled evening with 5,000 beer lovers like yourself enjoying the sounds of live music while sampling from over sixty different breweries.
Date: Friday, September 21, 2012  Time: 6pm until 11pm
Venue: Downtown San Diego, at Columbia and B street
Music: Len Rainey & the Midnight Players, Night Shift, 5 Miles High, Rifftide
Inside the SDFoB will be food items and munchies for sale in addition to a selection of fine wines for purchase by the glass. The first 3,000 guests receive a free souvenir event logo tasting mug that is theirs to use throughout the evening and to keep when they go home.
An ATM will be available within the event to allow for cash transactions to occur.
The Festival of Beer started in 1994, as an idea to to raise money for a cause that a group of friends were dedicated to. That cause was the fight against cancer. Patterned after a popular tasting event in San Luis Obispo, and backed by a large national charity, the event was held for two years in a park setting, but was only marginally successful, and funding for a third year looked doubtful.
A small group of dedicated professionals who believed in the festival concept then seized the opportunity to form a non-profit organization and created a team to independently run the re-designed beer festival in 1996 as a street festival. This group called itself the San Diego Professionals Against Cancer, or SDPAC, for short. The event was successful and was held again, year after year. Funds raised were donated to local San Diego cancer related charities, patient treatment, and research organizations.
Now, with around 5,000 guests regularly attending the events and 70 breweries pushing the beer total to over 150 brews, the event is more successful than ever and continues to grow. Recent donations have included Rady Children's Hospital and the Sidney Kimmel Cancer Center.
Please note that we also accept fully tax-deductible cash donations year-round by mail to: SDPAC, 10605 Mathieson St, San Diego, CA 92129
For more information on SDPAC, please see our website at: www.sdpac.org
www.sdbeerfest.org – @SDBeerFest – facebook