12th Annual Breastfest Beer Festival – San Francisco, CA – July 14, 2012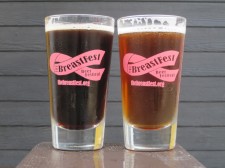 The 12th Annual Breastfest, Beer Festival A Benefit For The Charlotte Maxwell complementary Clinic
When:       Saturday, July 14th, 2012 General Admission 3-7pm, VIP Hour 2-3pm
Where:     Fort Mason Center, Festival Pavilion San Francisco, CA
Tickets:     General Admission $45 Advance, $55 @ the Door VIP Hour (2-3pm) is an extra $10. All tickets online at www.thebreastfest.org, or in person at Marin Brewing Company, 1809 Larkspur Landing Cir., Larkspur CA 94939 Moylan's Brewery and Restaurant, 15 Rowland Way, Novato CA 94947
Sponsors:    Marin Brewing Company, Moylan's Brewery & Restaurant, Pizza Orgasmica, Morris Distributing, Marin Bikes, Rockstar Energy Drink, BJ's Restaurant & Brewhouse, PopChips, Three Twins Ice Cream, The Celebrator Beer Magazine, Beer Magazine, DRAFT Magazine, TheFullPint.com and Brewed for Thought.com
A good time for a great cause! This year, the 12th Annual Breastfest Beer Festival will rock Fort Mason on July 14th, 2012 from 2-7pm. The festival welcomes over 60 breweries for a day to help raise money for the Charlotte Maxwell Complementary Clinic (CMCC), www.charlottemaxwell.org, a landmark public heath clinic that provides free complementary alternative medicine, supportive services and social services to women battling cancer and poverty.
The event offers a wonderful opportunity to sample and compare hundreds of micro-brewed beers, enjoy delicious homemade barbeque, and hear live music – all on the water front at Fort Mason Center in the Festival Pavilion while supporting a great cause! Live music from popular 80's rock cover band Metal Shop will have bodies jumping! Raffle prizes include 2 beach cruisers donated by Marin Bikes, various items from Marin Brewing Company and Moylan's Brewery & Restaurant, among other great prizes.
You can expect to see the top breweries from the area represented such as: Marin Brewing Co, Moylan's, Russian River, Anderson Valley, Sudwerks, 21st Amendment, Iron Springs, Lagunitas and more!
For more information about The BreastFest visit www.thebreastfest.org. For more information about the Charlotte Maxwell Clinic visit www.charlottemaxwell.org. For any questions, please email[email protected] or call 415.461.4677